Edge of Paradise | Perfect Shade of Black
by Joe Mis
– Senior Columnist —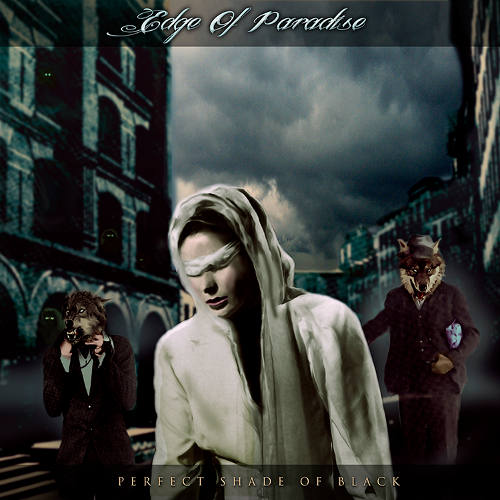 You might not be familiar with the band Edge of Paradise yet, but if their new EP is any indication then they will be making a major splash in the melodic metal arena very soon. Perfect Shade of Black is a five song follow up to Mask, the band's 2011 debut full length CD – and hopefully a preview of things to come. A dynamic vocalist, a guitarist who can shred with the best, a precise and tight bass and drum team – who can ask for more?
Formed by vocalist and keyboard player Margarita Monet and guitarist Dave Bates, Edge of Paradise has managed to secure significant support from a number of big names in the rock world. Their debut album featured well respected bassist Tony Franklin (Blue Murder, The Firm) and drummer Gregg Bissonette (David Lee Roth Band, Joe Satriani, Steve Vai), and was co-written by Robin McAuley. They finalized their lineup after Mask with the addition of bassist Nick Ericson and drummer John Chominsky and headed into the studio to record Perfect Shade of Black – this time with the support of metal legends Bob Kulick, Brett Chassen, and Michael Wagener handling the recording and mixing duties. With a pedigree like that, Edge of Paradise sets the bar of expectations very high.
"Perfect Shade of Black" opens with some eerie keyboards before Monet's vocals explode into your ears. Margarita has an awesome range, but she hovers around the upper end and sounds like she's singing with every ounce of strength. Bates delivers a soaring solo but keeps his guitars subdued during the balance of the track, allowing Ericson and Chominsky to drive the song. "In A Dream" changes tone to passionate and fiery. Monet's voice spirals over massive power chords and booming bottom end. When the verses go quiet, she sings softly and clearly over the simple guitar lines, leading to a powerful bridge and explosive final chorus. "Break Away" is a grinding guitar track reminiscent of early Doro or Warlock, but Bates' modern guitar styles keep it from being an imitation. The slower, ballad-like "Ghost" incorporates a number of progressive elements – tone and timing changes, layers of keys and vocals – and couples them with a jaw dropping guitar solo. "Crash Crash Burn" rolls in some industrial / underground influences and is a fun, lively track that should become the centerpiece of the band's live gigs.
Edge of Paradise is definitely a band to watch. Intelligent songwriting, diverse musical styles, and great delivery makes for a winning combination. Monet's outstanding vocals and passionate delivery, along with Bates' awesome guitars leave nothing else to be desired. The fine polish added by Ericson and Chominsky complete the picture. Hard rock fans looking for a kick-ass release will enjoy this ride. Influences of the greats, from Dio to Maiden are evident along with some symphonic touches. Edge of Paradise manages to carve out a unique and intense sound from it all. The only problem with this release is that it is simply too short – five tracks just aren't enough!
Genre: Melodic Metal
Band:
Margarita Monet (vocals/keyboards)
Dave Bates (guitar)
Nick Ericson (bass)
John Chominsky (drums)
Track Listing:
1. Perfect Shade Of Black
2. In A Dream
3. Break Away
4. Ghost
5. Crash Crash Burn (Bonus Track)
Label: Independent
Website: http://www.edgeofparadiseband.com/
Hardrock Haven rating: 9/10