Element | WTF Happened to Journalism
by Jenn Carbaugh
– Columnist —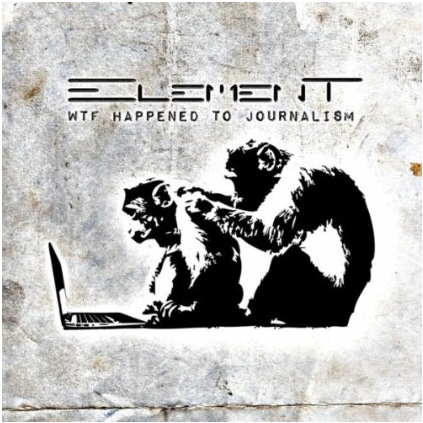 Founded in 2006 by Adam Calderbank and Rob Urquhart, Element has released their forthcoming third album, WTF Happened to Journalism. The band has been working hard to produce the type of album that is the core of what they do best. This album shows off their riff based skills. They do not need to follow a trend, because this album is far from disappointing.
The album's energy starts off with an amazing riff and steady rhythm build in "Whiskey Voodoo." There is a bold and solid sound. The head banging reaction begins immediately for listeners. It is a great way to start the album. The second song titled "Zombie" is an instrumental that tends to tone the energy down, but it does not take away the vigor.
"Abbey Lakes" continues to slow down heaviness of the album, but it still manages to add to the compilation of the songs. "WTF Happened to Journalism" is the song that shares the album's title. It is not as heavy as the first three songs on the album in the beginning of the track, but that pleasantly changes. The sound is back to being intense, and the music hits you in the face. There is a steady up and down pulse within the song that allows for an anthem-like feel. The song does the witty title justice.
"Wasteland Stomp" is a song that illustrates the drum abilities of Urquhart. The combination of the heavy beat, and the sharp symbols is startling in the best way, because it does not sound like every other rock band out there. With a clever alliteration from The Cult, "She Sells Sanctuary" is a genius cover and a great way to end the album. It does not leave on a somber sound. This song is similar to the first few in a way that you are captivated and have to just keep listening. The beat and vocals create a call-to-action, which is not typically how many albums end.
WTF Happened to Journalism is more than an entertaining question; it is a highly recommended album. Element certainly did not fizzle out with their third album like many bands tend to do.
Genre: Heavy Rock, Progressive Rock
Band:
Adam Calderbank – vocals, rhythm guitar
Alex Burnell – bass
Andy "Chow" Higham – lead guitar
Rob Urquhart – drums
Track Listing:
01. Whiskey Voodoo
02. Zombie (instrumental)
03. Kings of Martyrdom
04. Abbey Lakes
05. WTF Happened to Journalism
06. Something Down
07. Wasteland Stomp
08. December Son
09. She Sells Sanctuary
Label: Lucidia Music
Website: http://www.elementriffage.com
Hardrock Haven Rating: 10/10