Gloryhammer | Tales From the Kingdom of Fife
by Justin Gaines
– Senior Columnist/News Editor —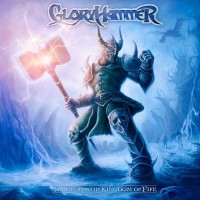 Sooner or later there was bound to be a band that looked at Rhapsody and Hammerfall and said "yeah, we can be even cheesier than that." That time has come, and the band to deliver the next level of over the top fantasy-based power metal is called (epically enough) Gloryhammer. The Scottish band was formed by Alestorm keyboardist Christopher Bowes, and is guaranteed to have (plastic) swords raised all across the globe.
In terms of overall sound, Tales From the Kingdom of Fife sounds exactly like you'd expect it to. This is Rhapsody meets Hammerfall-style power metal full of sweeping symphonic elements, galloping leads and sing-along choruses. Bowes makes the shift from swashbuckling pirates to dragons and princesses with ease, and some of the folk melodies he uses in Alestorm are carried over here. The rest of the band are relative newcomers, but you'd never know it by their performances on the album. Thomas Winkler's vocals in particular are strong.
Tales From the Kingdom of Fife is (to absolutely no one's surprise) a concept album based on a fantasy world. In this case it's an alternate universe Scotland full of magic weapons and enchanted creatures. Lyrically, Gloryhammer is so enthusiastically embracing the cheese factor that they're in Lost Horizon territory. It's tongue-in-cheek without becoming full-on parody, which is a fine line to walk, but song titles like "The Unicorn Invasion of Dundee" and "Magic Dragon" should clue you in on what to expect here.
Gloryhammer may be treading a very familiar path here, but they're definitely doing it with style. Tales From the Kingdom of Fife is an album that's literally too much fun to resist. Even if you burned out on the Rhapsody/Hammerfall epic power metal sound years ago, you really ought to give Gloryhammer a listen. Chances are they'll rekindle that power metal flame in your heart.
Edition Notes: You really need to get the CD version to truly get the full Gloryhammer experience. The thick booklet features cover artwork that would make Hammerfall drool, lush illustrations throughout, and one of the most epic band photos ever. The limited CD version, which comes in a digipack, also includes the bonus track "Wizards!"
Genre: Fantasy Power Metal
Band:
Thomas Winkler (v)
Paul Templing (g)
James Cartwright (b)
Christopher Bowes (k)
Ben Turk (d)
Track Listing:
Anstruther's Dark Prophecy
The Unicorn Invasion of Dundee
Angus McFife
Quest For the Hammer of Glory
Magic Dragon
Silent Tears of Frozen Princess
Amulet of Justice
Hail to Crail
Beneath Cowdenbeath
The Epic Rage of Furious Thunder
Label: Napalm Records
Online: http://www.gloryhammer.com/
Hardrock Haven rating: 8.75/10