KARNIVOOL announce new album, new single & the Asymmetry Tour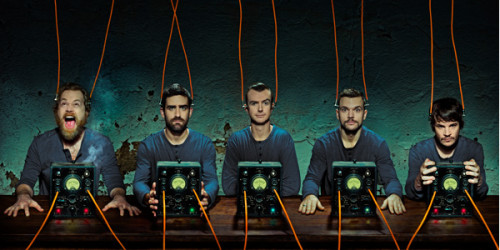 Karnivool's live show is one which has received the respect of their peers and the loyalty of their fans all over the world, so it would be beyond remiss of the band to release a new record without giving those songs the chance to breathe, morph and thunder as they should in the live arena. The "Asymmetry" tour will begin in earnest in Australia in July.
Karnivool are currently touring on the festival circuit in Europe and will play their largest festival to date tomorrow (June 15) at Download (UK) to over 120,000 people. The band then return to Australia in July and August for their biggest ever home tour before heading back to the UK and Europe later in 2013
The "Asymmetry Tour" UK dates are as follows. Bristol and Nottingham dates sold out so have now been moved to larger rooms – existing tickets remain valid
Wed 13th Nov 2013 Wedgewood Rooms, Portsmouth, UK
Thurs 14th Nov Anson Rooms, Bristol, UK – new venue. Thekla sold out and tickets remain valid
Fri 15th Nov Rock City, Nottingham, UK – now in main room. Tickets remain valid
Sat 16th Nov The Garage, Glasgow, UK
Mon 18th Nov Corporation, Sheffield, UK
Tues 19th Nov Academy II, Manchester, UK
Wed 20th Nov Institute Library, Birmingham, UK
Thurs 21st Nov Koko, London, UK
TesseracT provide support on all UK dates. www.tesseractband.co.uk
Tickets will be priced £14 – subject to booking fee and are available from www.karnivool.com www.ticketmaster.co.uk www.livenation.co.uk or local box offices
Tickets go onsale at 9am GMT Friday 21st June 2013
ASYMMETRY – THE ALBUM – 22nd July 2013
14 tracks and 67 minutes of new music from Karnivool?! We can't believe it either…
Ladies and Gentleman it gives us great pleasure to announce the next chapter in the musical travels of KARNIVOOL. It's been over 4 years since the release of the band's ground breaking sophomore long player "Sound Awake" – and it's been quite the journey since then. Three tours of the US and Europe including playing some of the world's largest festivals (including the mainstage of Sonisphere UK), extensive Australian touring and two tours of India including a massive 10,000 capacity headline show in Mumbai – as well as lot of records sold, kilometers travelled and beers drunk. Then? Nothing – for quite some time. Where were they, what was happening? The Facebook and Twitter messages from fans went from curious to pleading and finally abusive!
Today that changes. After spending way too long for anyone's comfort writing the follow up to "Sound Awake" and then a very long time holed up in Byron Bay recording and mixing with producer Nick DiDia (Rage Against The Machine) we are very happy to announce the birth of "ASYMMETRY". The new long player from Karnivool will be available July 22 (Cymatic Records/Sony). First single "WE ARE" can be heard from the June 14 along with the absolutely epic video from producer and long time collaborator Christopher Frey. The album will be available in various formats throughout the world (excluding North America) from July 22 and is everything you would expect – and more. We will let the band have the last say on the album:
"I think each time Karnivool walk into another record we all want to explore new ground," explains vocalist, Ian Kenny. "We want to open the door to our musical basement, switch the light off and tumble down the stairs into god knows what. Each time we switch the light on again we are a different band."
"We wanted this record to be a natural evolution from Sound Awake," adds guitarist, Drew Goddard. "It needed to be more honest and raw, sound wise and song wise, exploring unchartered territory for the band while holding true to the things that make Karnivool… Karnivool."
"As a theme or title, it's very much a broad brushstroke," says Goddard of the album's moniker. "It's one that we feel encompasses where we are at in a musical sense at this point in time. We are very much into big ideas that are open to interpretation, ideas that can mean different things to different members of the band as well as the listener."
Fans can pre-order the deluxe version of the album from karnivool.com. It includes a live DVD in custom designed, fold-out packaging featuring a full concert from The Forum in Melbourne (for a strictly limited time).
The new album "Asymmetry" is also available for pre-order from iTunes, which includes the new single 'We Are' as an instant-grat track and the 'We Are' video as a bonus on album release. The official release date for 'We Are' is Saturday 15 June but it will be available as an instant grat on iTunes from tonight when you pre-order the new album.
www.karnivool.com
www.facebook.com/karnivool
www.twitter.com/karnivool