by Derric Miller
– Managing Editor —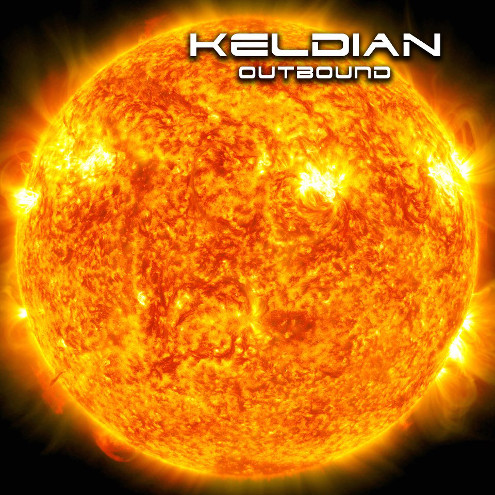 The Science-Fiction melodic metal fanatics from Norway, Keldian, are back with their third studio effort, Outbound. Albeit they took half a decade off between their second and third releases, distance does really make the heart grow fonder because after even one listen, you'll be both aggravated it took so long and celebrating the fact that they are back, and somehow, better than before.
"Burn the Sky" is a surprisingly menacing track, although these are the guys who wrote "Don't be afraid … only death divides us," but still "Burn the Sky" is one bad ass story. While the riffs shred, it's the haunting vocals of Christer Andresen singing lines like "End the space race and burn the sky, and you will never make it out of here alive" or the rhythmic chanting of "I have, you have not" that is just like a kick to the teeth.
"Never Existed" is an existential mental breakdown of a track, a jerking, pounding anthem that oozes unease at each turn. Starting out with the wail of "I don't want to be a hero anymore!" it keeps going off the rails, with lyrics like "Can't breathe, can't do it, just let me fall. We're all lost, fighting enemies that don't exist … and they turned us into this!" Halfway through the song there's an airy reprieve, with soft keys, yet it builds up to a roaring, precise and emphatic solo. If you are having a bad day, chuck in "Never Existed" and it might let you know that no matter what condition you are in, it could be worse; you could be in the mental state of the dude in "Never Existed."
It seems that Keldian is pissed off at the universe, in some ways. Listening to "Morning Light Mountain," and hearing lines like "I don't need morality; there is no peace for you and me!" it's obvious that whatever is going on with mankind in this universe, Keldian doesn't think it bodes all that well for us. It doesn't stay on this path throughout, though …
The first real hint of hope steps in halfway through Outbound, on the anthemic "Kepler and 100,000 stars." This is one of the heaviest, fastest compositions on the release, although it's written with smart tempo changes that temper the edge at times. Sounding like Kansas one moment, Dragonforce the next, the track mesmerizes. And yes, it's about the search for a habitable planet outside of Earth.
Keldian, meet Pink Floyd. Oh, you've met? Yes, otherwise "The Silfen Paths" would not exist. It's impossible to hear the opening lines, "A single thought, slowly taking hold, until all you know is the calling from afar," and not tie this to Pink Floyd. It's definitely not specific, a mimic of another song, but the aura of this track surely lends itself to Pink Floyd. All that aside, it may be the strongest composition on Outbound. It certainly owns the most engaging chorus, one that you can't help but remember immediately. At nearly 12 minutes, it's epic in all ways.
And now out of left field, the album closes with an A-Ha cover. No, it's not "Take On Me" but instead, "Scoundrel Days." Somehow, someway, the gents in Keldian make this sound like a Keldian track. Sure, the original was haunting, gloomy and just weird, but Keldian metalizes it while enhancing the otherworldliness of the lyrics, especially on lines like "I've got blood in my hair … their hands touch my body from everywhere." While seemingly an odd fit for what came before, it's actually a perfect cover.
What can you say about Keldian other than "Please don't go another five years before giving us new music"? Outbound is going to land on a lot of Top 10 lists for the year, that is, if enough people give it a chance. It's better than the majority of music released this year, and the fact that these cosmic themes come from such unassuming Norwegian dudes is poetically relevant. In other words, you don't have to be a "know-it-all" to know it all. Let the music speak for itself, just as Keldian accomplished on Outbound.
Genre: Melodic Sci-Fi Metal
Band:
Christer Andresen – lead vocals, guitars, bass
Arild Aardalen – synthesizers, vocals
Featuring:
Jørn Holen – drums
Thommie Myhrvold – vocals (7,9)
Helene Hande Midje – vocals (2,4,5,6)
Kjell Vidar Merkesdal – vocals (4)
Track listing:
1. Burn The Sky
2. Earthblood
3. Never Existed
4. Morning Light Mountain
5. Kepler And 100,000 Stars
6. The Silfen Paths
7. Run For Your Life
8. A Place Above The Air
9. F.T.L.
10. Scoundrel Days (bonus track)
Online: www.keldian.com
Hardrock Haven rating: 8.6/10