Killer Dwarfs | Start @ One
by John Kindred
– Publisher —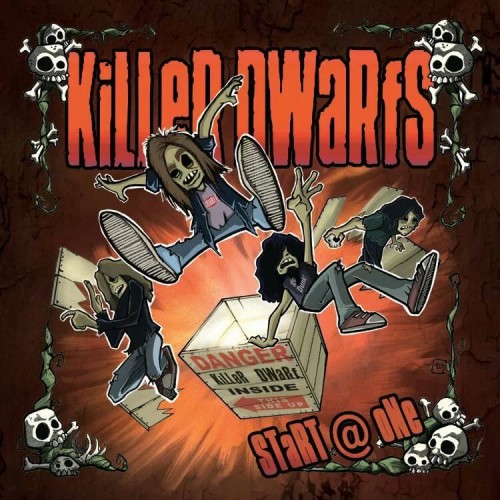 Start @ One is the last release from Killer Dwarfs. The legendary Canadian band has reformed to support the release of this "lost" studio album. Start @ One was originally recorded in '93 with producer/engineer Fred Duvall and featured the same lineup that appeared on '91s Method to the Madness. The album follows the release of Russ Dwarfs acoustic release of Wireless which was also was produced by Duvall. Start @ One has been digitally remixed and re-mastered and features nine songs. The music is spot-on to the band's classic hard rock sound that Killer Dwarfs fans have become accustomed to.
Out of the gates the band takes off on the opening song "Lonely Road." Sporting a catchy melodic vocal line that hovers over the crunch of the electric guitar and rhythmic pulse of the bass and drums, Russ welcomes fans back into the land of Killer Dwarfs. The majority of the music has a positive up-tempo vibe. "Solid Ground" captures this feeling about chasing one's hopes and dreams. "Sky is Falling" opens with a heavy dissident riff and Russ vocals soars as the verse kicks in. The chorus has a layered gang vocal with a unique harmony, very catchy and certainly memorable. "Adalina" has a familiar bass groove (think "Tommy used to work on the docks…") … while Bon Jovi pops in your mind here it is just a brief side note as the Dwarfs rawk it up on this track which balances soft then heavy dynamics to perfection. Add in the solo by Gerry Dwarf and this is a true ripping hard rock classic.
So we land in the middle of the CD with "Psycho Circus" a song that predates Kiss' version by five years so there is no copycat leanings happening here. This song fires up the tempo as the guitar opens with a moving, grinding style of electric mayhem. Russ is right at home throughout… the chorus is very Killer Dwarfs and as the song progresses it keeps expanding and expanding, getting larger and bigger, until the music echoes away. The title track "Start @ One" is up next. It's another bon-a-fide Dwarfs song… lyrics music and vocals, it's all there.
"Down in Hollywood" again kicks in with a riffing, kicking electric guitar groove. It certainly has that '80s rock vibe akin to the Sunset Strip when West Coast rock reigned supreme. Nice break down in the middle recalls Van Halen's "Panama" but the solo that follows is its own beast entirely. "Walk on By" continues on the same path. Another melodic number that feature a killer solo and superb vocals.
"The Crowd" wraps the album up. This song is the closest to anything resembling a ballad on the entire CD. It quickly picks up the pace as the band kicks in. The chorus has an easily memorable vocal melody, it's lyrically a bit moody… but the guitars have plenty of crunch. And with that we fade out…
Start @ One ranks right up there with Dirty Weapons. It's an album that is worthy of multiple spins and Killer Dwarfs fans should most definitely add to their collection. The production is flawless, every instrument sits perfectly in the mix, all audible. Russ vocals sit right in the middle, not too loud or to low… a real good balance has been struck by Duvalle. Russ, Darrell, Ronbo and Gerry deliver some delicious treats for melodic hard rock fans. It's a good thing that this album finally saw the light of day 'cause Dwarfs fans would have missed out…
Genre: Hard Rock, Melodic Hard Rock
Band:
Russ Dwarf (v)
Darrell Dwarf (d)
Ronbo Dwarf (b)
Gerry Dwarf (g)
Track Listing:
1. Lonely Road
2. Solid Ground
3. Sky is Falling
4. Adalina
5. Psycho Circus
6. Start @ One
7. Down in Hollywood
8. Walk on By
9. The Crowd
Label: Smoothline Entertainment Group
Online: http://russdwarf.com/
Hardrock Haven rating: 10/10