by Deb Rao
– Senior Columnist —
November 16, 2013 at Vamp'd in Las Vegas, NV.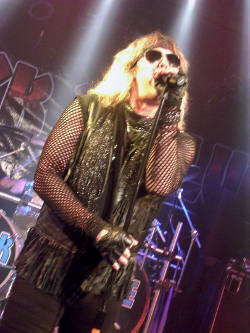 Hot off the heels of performing in LA, Black N' Blue made a special stop in Las Vegas performing to a packed house at Vamp'd on Nov. 16. The band performed a riveting 90-minute set that spanned their 30-year career. Jaime St. James hit the stage with his signature sunglasses dresses in black leather and ready to rock the house. The band opened with "Rockin' On Heaven's Door," as Jaime took full command of the audience.
The band featured Jaime St. James on vocals, guitarist Shawn Sonnenchein, bassist Patrick Young, and drummer Pete Holmes. The set spanned their extensive career including songs, "Nasty Nasty", "Miss Mystery" and latest material "Hell Yeah" from their 2011 Frontiers Records.
Tonight's Black N' Blue performance was all about the tight harmonies and dueling thunderous guitar riffs. There is new guitar blood in the band and his name is Brandon Cook. When I asked Brandon how he got the gig this is what he said, "Shawn discovered me when I was playing in Oregon. I am based in Oregon and also playing in a GNR cover band. I love all kinds of music. I work very hard at my craft. I have a daughter so I never ventured out to the Nashville or New York market. I hope to bring intensity and harmony to the band. Like on the song "Kiss Of Death" tonight. Shawn and I harmonized on that song." I haven't heard the band in a while and tonight's performance showcased the rebirth of the band. Jaime was fantastic and the excellent guitar work showcased the full Black N' Blue package.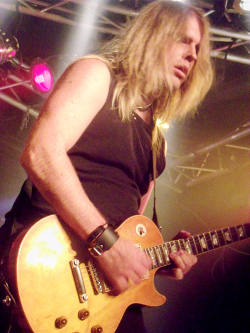 It is hard to believe that 2014 will mark the 30 anniversary of the 1984 debut of the self-titled Black N' Blue release. When I asked Jaime what he thought about this he told me, "I was only 23 years old when I wrote the first album. Next year will mark the 30th Anniversary of the release. It was hard to envision when I was writing the album that I would still be singing these songs today. Thank God I can still sing them the way they were recorded back in the day."
To celebrate the upcoming anniversary Vegas fans were treated to three songs from Black N' Blue debut release including "Hold On To 18," "School Of Hard Knocks" and "The Strong Will Rock." It was a magical night indeed. Black N' Blue performed with so much energy. Guitarist Shawn Sonnenchein tells Hardrock Haven that 2014 is going to be a great year for the band. Special Thanks to Jaime St. James and Brandon Cook for taking time out to talk with Hardrock Haven.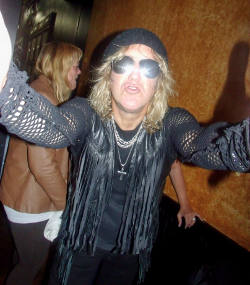 Set List:
Rockin' On Heaven's Door
Stop The Lightning
Chains Around Heaven
Nasty Nasty
Does She Or Doesn't She
Heat It Up
Hell Yeah!
Burn It Out
Auto Blast
Without Love
Miss Mystery
Target
Kiss Of Death
Live It Up
The Strong Will Rock
School Of Hard Knocks
Hold On To 18