by Anabel Dflux
– Senior Photojournalist —
November 7th, 2013 at the Roxy Theatre, Hollywood, CA. —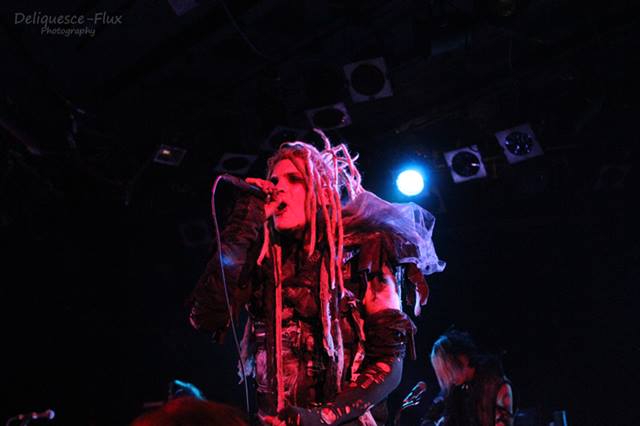 They're back… Davey Suicide, hometown Hollywood heroes, are back to the Sunset Strip for yet another show. Taking the scene by storm and having a wildly successful year (minus a few hiccups with lineup changes), Davey Suicide are the epitome of a band taking the city by storm. Opening for William Control on the Revel Without a Cause tour, Davey Suicide remains one of the most recognizable figures amongst this scene of bands.
Gathering a die-hard following during their musical endeavors, Suicide followers can very clearly be picked out in the crowd. With motivational lyrics and a kick-ass attitude, this band is probably one of the better influences for the younger music generation. Their stage presence is unlike anything you've seen before, each member has quite a personality and the theatrical costumes and whatnot are a sight that stays with you long after the concert is over.
There was a wild, and thrilling response from the audience members, with everyone chanting the songs and jumping up and down to the beat.
Members:
DAVEY SUICIDE – Vocals
NEEDLZ – Keyboard, Programming, Back-Up Vox
DRAYVEN DAVIDSON – Drums
BRENT ASHLEY – Bass, Back-Up Vox
ASHES – Guitar (last performance with this band)
www.DAVEYSUICIDE.com

https://www.facebook.com/daveysuicide
LIVE! | Davey Suicide Concert Photo Gallery