by Anabel Dflux
– Senior Photojournalist —
November 24, 2013 at House of Blues in Hollywood, CA.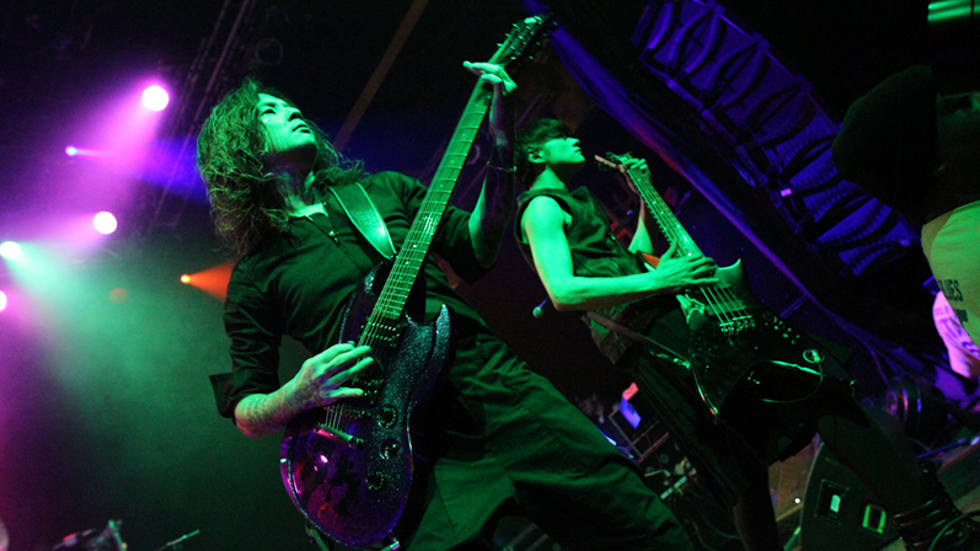 One of the most recognizable Japanese metal bands to date, Dir En Grey made their way to Hollywood on November 24th, 2013. With a visually stunning performance and sound as rich as can be, Dir En Grey packed the House of Blues to the brim. One of the rare bands whose lineup remained consistent since their conception in 1997, the members of Dir En Grey belong in the books as metal deities. Eight studio albums and countless sold out shows that have crossed cultural boundaries a million times over, this is a band that others aspire to be.
A musical intro led into the members walking graceful unto the stage. Opening with Obscure, Vocalist Kyo (京) was adorned with a large piece of fabric concealing his face, which made a visual statement unlike any other. Under the shroud was a man with an impressive amount of face paint. The other members really entertained the crowd, everyone fell into perfect harmony with each other.
Members:
Kyo – lead vocals
Kaoru – guitar, backing vocals
Die – guitar, backing vocals
Toshiya – bass, backing vocals
Shinya – drums, percussion
LIVE! | Dir En Grey Concert Photo Gallery