by Matt Downy
– Guest Columnist —
November 9, 2013 at House Of Rock in White Marsh, MD.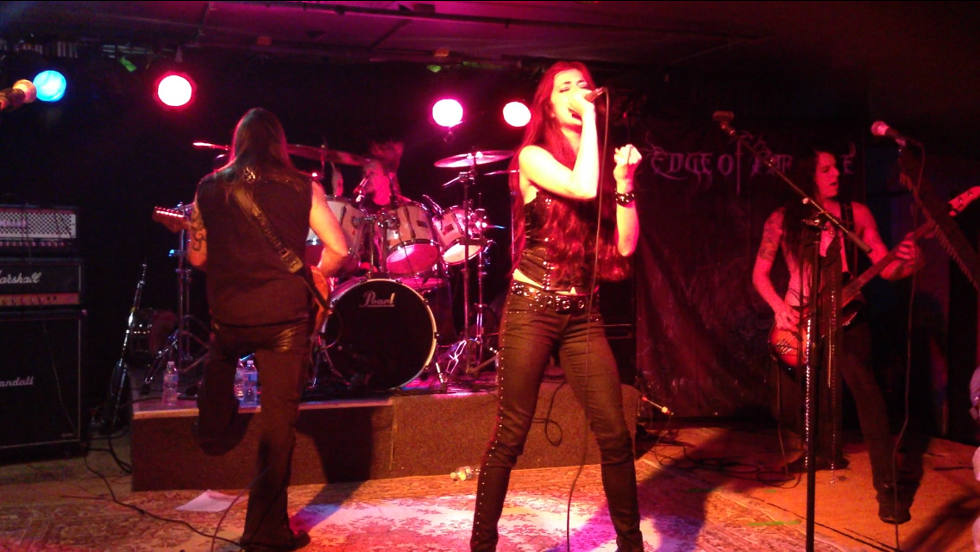 L.A. rockers, Edge Of Paradise took over the House Of Rock stage, as they commanded attention of all Rock Harvest headbangers in White Marsh, MD.
Margarita Monet is one hell of a front woman, besides having unbelievable pipes and killer looks; she can work the stage which was demonstrated when she jumped on the edge of the stage in spiked stilettos! Her voice emerges in the music and transforms with each track giving her heart and soul to each song!
Ok enough with my obsession with the lead singer. The band has songs that are very catchy and they also have a very distinct sound. Even though I haven't heard anything like it, their music is very accessible and I can say that just by judging the reaction of the crowd. I could also easily see them going mainstream down the road.
After the show the band had people lined up to get a chance to meet the singer, and get their autographed merchandise. I scored a copy of their CD and a T-Shirt. I had a chance to exchange a few words with Margarita, and even though I didn't really know who they were prior, I was star struck!
I also want to point out that even though Margarita is the shining star of the group, every member holds their own place. Guitarist David Bates rips on the guitar like no other! The songs are definitely led by souring vocals, catchy hooks, killer guitar riffs and shredding solos driven by grooving rhythm section! I'm not a guitar player, but this guy is on the level of guitar legends. To be honest, there have not been other guitar players that have spiked my interest in the last few years.
I will keep an eye on this band and find out if my prediction of them taking over arenas soon comes true! I hope they do as we are in need of a fresh and powerful melodic act to rise. Edge of Paradise has got it all and I can definitely see this band securing their spot in the music industry!
Oh ya, and their version of Sabbath's song 'Children of the Sea' will blow your mind!
I picked up their new EP that was mixed by the legendary rock titan Michael Wagener, and I tell ya what, this band is on the way to greatness! And being fronted by this gem, Margarita Monet they are bound to reach it.
Band members: Margarita Monet, Nick Ericson, Dave Bates, John Chominski.
Set list as follows:
1.Perfect Shade Of Black
2.Break Away
3.Ghost
4.Saints Of Los Angeles
5.Children Of The Sea
6.Crash And Burn
7.Walk The Line
8.Thrown It Away
9. In A Dream