LIVE! | Fearless Vampire Killers
by Anabel Dflux
– Senior Photojournalist —
November 7th, 2013 at the Roxy Theatre, Hollywood, CA. —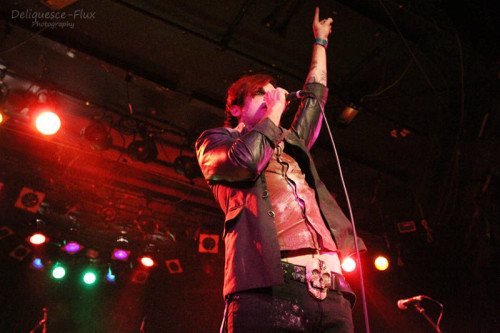 Get ready and get set for a new kind of British incursion to hit the states.
London locals Fearless Vampire Killers graced our country with their presence, opening for William Control. A new band to add to the unique mix that is the Revel Without a Cause Tour, Fearless Vampire Killers are a death-pop rock band that prides itself on eccentric performance and theatrical themes. With kitschy and fun lyrics, this band is a package of fun narrowed down to five members.
From the first note, vocalist Kier roped the crowd in with his very in-your-face performance style (which definitely works well for this band!) and fun-loving nature that was quite evident throughout the night. Co-vocalist Laurence also engaged the crowd, but in a more laid-back fashion. Quite a contrast. Steampunker Cyrus on guitar entertained his corner of the stage, while bassist Drew took over the right side. Drummer Luke was just having a fantastic time on his percussion kit.
Something new, something different, but absolutely a good time- whether you like them or not, they're definitely here to stay.
Members:
Kier Kemp – Vocals
Laurence Beveridge – Vocals
Cyrus Barrone – Guitar
Drew Woolnough – Bass
Luke Illingworth – Drums
http://www.fearlessvampirekillers.co.uk
https://www.facebook.com/wearefearlessvampirekillers/
LIVE! | Fearless Vampire Killers Concert Photo Gallery