by Anabel Dflux
– Senior Photojournalist —
November 7th, 2013 at the Roxy Theatre, Hollywood, CA. —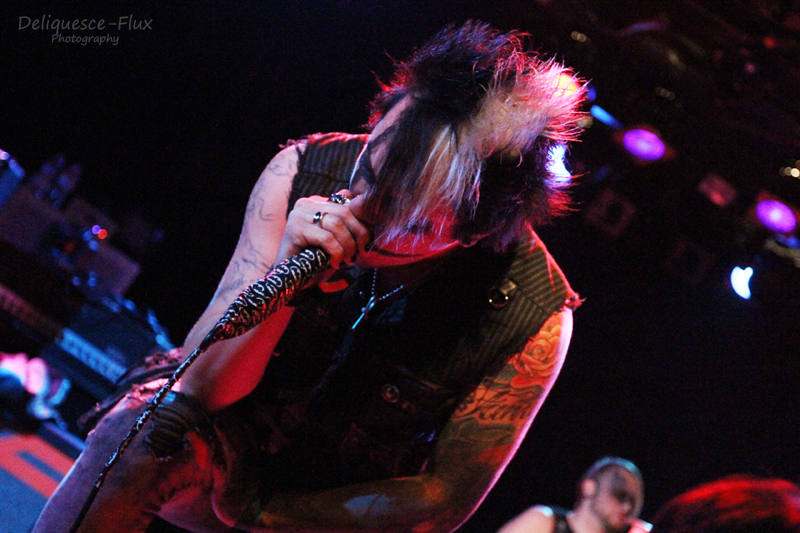 One of the hottest new bands to hit the Hollywood scene, In White Noise played their debut show at the Roxy Theatre on the Sunset Strip on November 7th. Opening for William Control, Davey Suicide, and Fearless Vampire Killers- In White Noise definitely took this show by storm, energizing the music lovers immensely. From theatrical makeup to spontaneous stage antic, this band fit in brilliantly with the others and definitely struck the right note with fans.
Each band member had their own unique style, with some members staying stable in one place and others running all over the stage. There was great interaction with fans, the singer kept each audience member compelled and mesmerized- not an easy thing to do in this day and age! Having only been around since 2012, this band seemed to settle into their respectful genre quickly and amass a bit of a following in their short time together. Some of Roxy patrons actually knew of this band, and sang along to their single 'Victims'.
If you're looking for a spunky metal group to take you off your feet, In White Noise is the one to check out.
Members:
James Drhaven – Vocals Andrew Roach – Guitar Chris Deadly – Guitar Mac Grimm – Bass JJ Terror – Drums
Facebook.com/inwhitenoiseofficial
LIVE! | In White Noise Concert Photo Gallery