by Anabel Dflux
– Senior Photojournalist —
November 7th, 2013 at the Roxy Theatre, Hollywood, CA. —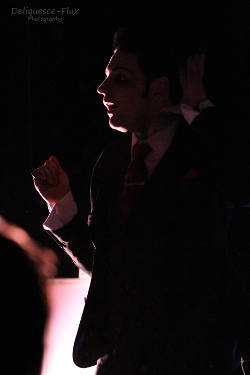 The suave, dapper, and oh-so dark, William Control blew the minds of music enthusiasts on November 7th, at the Roxy Theatre in Hollywood. Originally the front man for infamous rock band Aiden, mastermind William Francis created William Control out of the stroke of genius in his own mind. With lyrics epitomizing the very literary and poetic nature of its creator, the music itself is both deep but very danceable.
This dark electronic band wooed and fascinated the audience. The lighting, although a nuisance for us photographers, created an absolutely brilliant atmosphere (so we forgive the man for making our photography life difficult). All of the house lights were turned off, yet the strobe lights constantly went on and off, which made the performance appear very cinematic, reminiscent of a stop motion film.
Definitely a memorable night, for each and every individual that showed up.
http://www.williamcontrol.com
https://www.facebook.com/williamcontrolofficial
LIVE! | William Control Concert Photo Gallery