Masters of Disguise | Knutson's Return EP
by Jenn Carbaugh
– Columnist —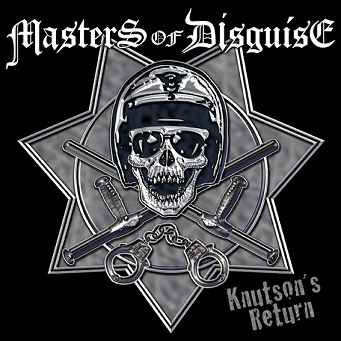 Masters of Disguise is a newer band formed by ex-Savage Grace touring members, Nuedi, Kalli Coldsmith, Roger Dequis, and Mario Lang. The vocals are done by Alexx Stahl who is one of the most gifted vocalists on the German metal scene. They are slowly becoming the epitome of the '80s style Speed Metal.
There are three songs that are featured on the album. A new recording of Savage Grace's classic "Into the Fire" is one of those songs. The influences of Judas Priest and Iron Maiden can be heard, but there are many bands that sound similar. The quality of each song is good, but it is nothing new being brought to the sounds of Speed Metal.
The first track, "For Now and All Time (Knutson's Return)" has all of the qualities of a great speed metal track. The shrill vocals and intense tempo of the song create musical chaos that is done quite well. The shredding on the guitar is very commendable and takes massive skill. The speed and ability are really great, but great has been done before. The EP does not provide much variety. Masters of Disguise is a high-quality band, but they do not bring anything new to the Speed Metal table.
Genre: Speed Metal
Band:
Alexx Stahl – vocals
Kalli Coldsmith – guitar
Roger Dequis – guitar
Mario Lang – bass
Neudi – drums
Track Listing:
01. For Now and All Time (Knutson's Return)
02. Alliance
03. Into the Fire
Label: Limb Music
Website: http://masters-of-disguise.com/
Hardrock Haven Rating: 6/10