Matt O'Shaugnessy and Tony Gizzo
by Alex Barbieri
– Senior Columnist —
Three Decades of Metal Mayhem:
It's Friday night and it's mayhem in the studio. Metal Mayhem, that is. About a half hour north of New York City in the city of New Rochelle, NY, there is a well-known and respected AM radio station called WVOX. Most of the time, the station's airwaves are filled with national and local news, political, financial, and even religious commentary. But on Tuesday nights from 9-11pm ET and Friday nights from 6-10 pm ET, DJs Matt O'Shaughnessy and Tony Gizzo host the Metal Mayhem radio show, heard worldwide on http://www.wvox.com/ and 1460 AM locally.
Since 1982, O'Shaughnessy has interviewed and played a wide gamut of hard rock and metal bands. He is especially passionate about promoting local, unsigned acts—consider O'Shaughnessy the "local band's Eddie Trunk." But Matt and Tony have interviewed many A-listers, too, including Dave Mustaine, Mark Kendall of Great White, Stryper's Michael Sweet, Scott Rockenfield of Queensryche, Yngwie Malmsteen, and the "Metal God" himself, Rob Halford.
Hardrock Haven talked to Matt and Tony about the highlights of more than 30 years of Metal Mayhem.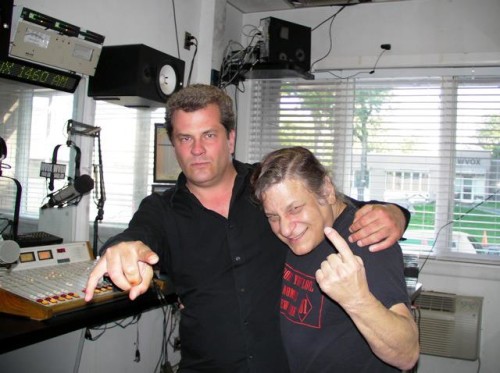 HRH: Matt and Tony, thanks for your willingness to be interviewed by HRH! When and how did the Metal Mayhem show get started?
MO: I founded Metal Mayhem in the early 1980s when I was just fourteen years-old. My goal and aim early on was to feature the entire gamut of heavy metal. I was, and still am, a big advocate of supporting independent, unsigned and local acts.
HRH: Tony, you add great energy and humor to Metal Mayhem. When and how did you come to join Matt on the Metal Mayhem show?
TG: Well, there's an interesting question. I got into this show quite by accident. Back in 2007, Matt was asking around for someone fun to interview and my name came up through Matt's friend Louis. Louis, as it turns out, is my brother-in-law and a neighbor of Matt. So I went on the show as a guest and tore it up! I had such a good response from the listeners that I was asked back the following week. Again, a good response. And I haven't left the show since. I love talking to people and poking a little fun at them too. This show allows me to do that with the metal community, who, by the way, have a terrific sense of humor!
HRH: Over the past 31 years, what have been some of the highlights of the show?
MO: There have been so many great interviews—bands such as Metallica, Megadeth, KISS, Slayer, L.A.Guns, Dokken, Judas Priest, Accept, Metal Church, King Diamond, Great White, Anthrax, and many more have all been featured in prime time exclusive interviews.
But a highlight of my broadcasting career certainly was interviewing the always eloquent and brilliant "Metal God" himself, Rob Halford. That interview with Halford will always remain clear in my mind as he is one of the most poignant and utterly intelligent people in the metal fraternity.
Also, I consider Accept's founder/guitar wizard, Wolf Hoffmann, to be another poignant and gifted wordsmith; he always gives great and articulate interviews!
I wouldn't call this a highlight, but I was one of the first media men to get the exclusive news out on the late Metallica bassist Cliff Burton's sad passing by having live call ins from bands like Exodus, Slayer—people who knew Cliff. That was an emotional show—he was very loved and respected.
TG: There have been so many highlights it's hard to choose. But I must admit, when we went down to Manhattan to interview Rob Halford a few months ago and he came into the hotel room and immediately said, "Oh wow, it's the Metal Mayhem crew! I love you guys!" and gave us all hugs; I was blown away. We had interviewed him a couple of times in the past, but always over the phone. And for him to remember us and be happy to see us in person was unbelievable! It should've been the other way around.
But, overall, the highlights, for me, are always about the up and coming bands. Seeing the best and the brightest working their way up is just the best thing I could possibly get from our show. Yes I love talking to the stars—who wouldn't? But I really love talking to the new guys and girls on the block and hearing their music. There is so much talent out there. And giving these new artists a chance to get on the radio—some for the first time—is quite exhilarating.
HRH: Who has been your craziest/weirdest interview and why?
MO: Two of our most over-the-top interviews were certainly Sebastian Bach and Steven Adler. Both were on fire those nights and let it all hang out, so to speak, which made for wonderful and candid interviews!
TG: Again, I'm going to have to agree with Matt on this. Sebastian Bach was so lively and energetic that he made our job easy that night. He loves to laugh! And anyone who knows me knows that I do, too. So we went back and forth on all kinds of topics. In the end, he said to me that he wished he and I had gone to high school together. He said we would've torn the place down and been the best of friends! As far as Steven Adler is concerned, we had a blast with him! He told us he was sitting at home on his couch in L.A. for the interview. That session turned out to be one of the wildest and craziest interviews we've done to date! But who are we kidding? We love all our interviews!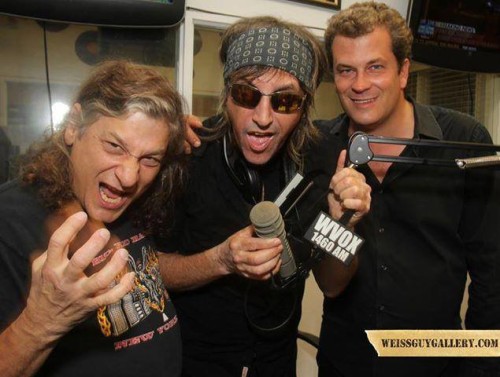 HRH: What do you attribute Metal Mayhem's span and great respect in the metal community to?
MO: For openers, Tony and I are firmly committed to this and always have been. It's not a side or part time job for us—this is our life and our purpose. Also, I consider Metal Mayhem completely unique as the show features the entire gamut of hard rock and metal; from Aerosmith, KISS,UFO, Great White to Megadeth, Metallica, Slayer, Death Angel and many more. Metal Mayhem enjoys a worldwide fan-base from around the world on http://www.wvox.com/ and receives calls from literally all parts of the globe.
TG: We get respect because we give respect! We respect all the hard work these artists put into their music. We respect all that they've given back to their fans and their community. And we give the same kind of respect to the newest of artists who are working hard to achieve the level of fame the big guys have. That's why these artists keep coming back to our show. That's why we get respect from them.
HRH: Matt, how has the Internet changed the radio industry for better or worse?
MO: I am convinced it has both its pros and cons; now with the Internet, fans of our show and heavy metal music can literally access us from any point in the world via their computer, which definitely broadens Metal Mayhem's scope and depth—so that is great thing. There are still tons of radio buffs out there who listen to us on 1460 AM in New York, so radio is like Lazarus in the Bible–you can't kill it.
HRH: Matt and Tony, both of you do a tremendous job showcasing local, unsigned and independent artists. How can bands submit their material for airplay on Metal Mayhem?
MO: We would love to hear from them! They can send their CD and bio to us at: WVOX Radio, Metal Mayhem, One Broadcast Forum, New Rochelle, NY 10801.
HRH: Who haven't you interviewed yet that is on your interview wish list?
MO: The incomparable and influential Gene Simmons and Paul Stanley of KISS, and Motorhead's Lemmy!
TG: I'd love to talk to Steven Tyler. Or Slash. Or Alice Cooper. Or Sting. Wait, what? Sting isn't a metal guy? But Sting is such a great metal name, don't you think? See, now I've got to talk to him! He should be doing metal. Or give up that name! Stay tuned!
HRH: How much longer do you see yourselves doing the show?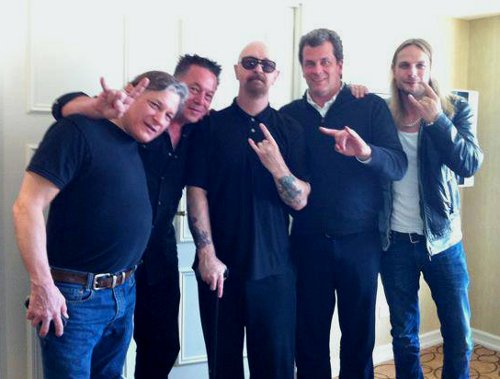 MO: After 31 years, do I see Metal Mayhem going 31 more years? Hell yes! Heavy metal is one of the most supported and loyal fan bases in all music forms. We will do this as long as we can breathe!
TG: Hey, as long as I keep getting accepted into the venues these great artists are playing in and getting a few free beers, I'll be around forever!
HRH: Matt and Tony, what would you like to say on a final note?
MO: We really deeply thank the people at WVOX who, early on, saw a huge market for this kind of music and let us roll with it creatively and musically. Tony and I also can't thank enough all the wonderful relationships we've made with the bands and artists, PR firms, management companies, record label reps, and more. We could not do this without you! And most certainly, our loyal diehard listeners who have been with us for three decades now. For those about to listen … we salute you! Here's to 30 more years!
HRH: Matt and Tony, thank you so much for this interview and for all you've done for hard rock and metal! Hardrock Haven wishes you the best and many more successful years ahead!
Listen to Metal Mayhem worldwide, Tuesday's between 9-11pm ET and Friday nights from 6-10pm ET on WVOX.com. http://www.wvox.com/
Like Metal Mayhem on Facebook: https://www.facebook.com/#!/MetalMayhemWvox1460Am