Now Or Never | Now Or Never
by Matt Karpe
– Columnist —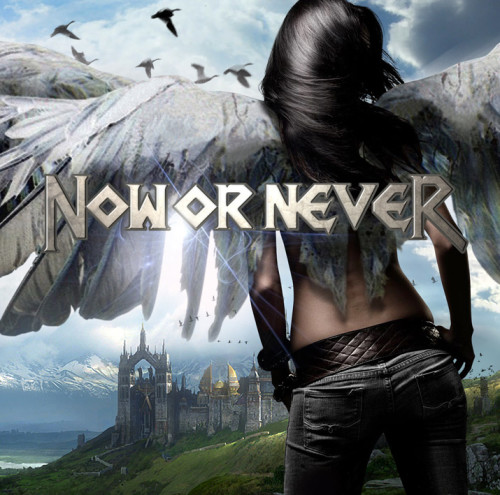 Now Or Never's self-titled debut finds a group of musicians, already masters of their craft through various stints in other bands, joining forces to fuse hard rock and heavy metal together in storming fashion.
"Reach Out For The Sky" is a sensational opener, and the rollicking intro shows us exactly what we are to expect in the next fifty-plus minutes. Ricky Marx's guitar riffs are heavy as (insert your own word here), and Fabian Ranzoni thrashes the drums as if his life depends on it. Pat Liotard adds some good key work and interesting sound effects whilst Kenn Jackson's bass puts the finishing touches to a very talented group of musicians. This is all brought upon the listener before we finally get to hear Jo Amore and his powerful vocals. One moment snarling, the other singing in high pitched melody, you could be forgiven for thinking Rob Halford has joined another band, such is the similarity.
"Now Or Never" (the song) has some good bass work and electronic sampling, and again the drums are a dominating force..
"Wind Of Freedom" is a brilliant modern metal song. The chorus is huge and melodic, and the drums and guitar riffs are more simplified, but maybe that is what makes this song sound so good, and this is more likely to be the most accessible song for new listeners.
"Hardened Steel" has another good chorus, very Judas Priest-like in its delivery, but made to sound original, and it is another highlight of the album.
There is a good mixture on show on the twelve tracks here, as "Brothers" is, in part due to Liotard's sound effects, a heavy industrial influenced song. "An Angel By My Side" is an 80s' style power ballad which is slow and haunting, and "Something's Missing" is a beautiful acoustic ballad. Amore's vocals are strong and impressionable on a stripped down song that still somehow oozes atmosphere.
Unfortunately there are a few filler songs, "How Do You Feel" and "Dying For You" are musically very good but they meander to an unspectacular finale, as does "Who's In The Mirror", but with the amount of sheer quality on show, it was maybe inevitable that Now Or Never would slightly run out of steam as the album progresses.
Nightmare, Sultan and Pretty Maids are all bands worth checking out if you want to hear more of the artists that make Now Or Never, but if this band are to become a full time gig, then maybe this is all you will want to hear because this may be one of the heaviest and most thunderous albums released in 2013.
Genre: Hard Rock, Heavy Metal
Band:
Jo Amore: Vocals
Ricky Marx- Guitar
Kenn Jackson- Bass
Fabian Ranzoni- Drums
Pat Liotard- Keys, Sound Effects, Backing Vocals
Track Listing:
1. Reach Out For The Sky
2. Now Or Never
3. Wind Of Freedom
4. Brothers
5. Hardened Steel
6. Princess Of Undiscovered Land
7. An Angel By My Side
8. How Do You Feel
9. Dying For You
10. Who's In The Mirror
11. Something's Missing
12. Weirdo Lullaby (Outro)
Record Label: Mausoleum Records
Website: www.now-or-noever.ch
Hardrock Haven Rating: 7/10