Ritchie Blackmore's Rainbow | Black Masquerade
by John Kindred
– Publisher —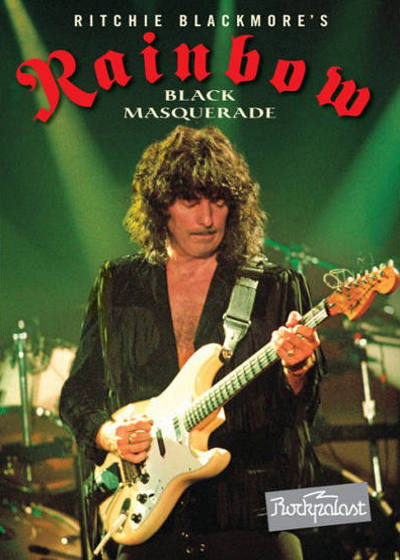 Fans of Richie Blackmore who relish his return to his Neo-classical hard rock roots may not find a future Rainbow album on the horizon. But you can leave it to Eagle Rock Entertainment to dig up classic concert footage of Rainbow. Black Masquerade features Rainbow live in concert in 1995 in Dusseldorf, Germany. The concert originally was aired on German public TV for the Rockpalast series. Touring in support of Rainbow's '95-acclaimed studio album Stranger in Us All, Blackmore is joined by his future wife and music collaborator singer Candice Night; bassist Greg Smith; keyboardist Paul Morris; drummer Chuck Burgi; and Doogie White.
After Blackmore's permanent departure from Deep Purple in 1993, he reformed Rainbow with all new members. With then-unknown vocalist Doogie White alongside Candice Night, in 1995, Blackmore retooled, refueled and unleashed the studio album Strangers in Us All. Black Masquerade features many songs from that album and songs from Down to Earth, Long Live Rock 'n' Roll and other Deep Purple staples.
Ritchie Blackmore's Rainbow delivers a flawless performance. Led by Doogie White, Blackmore demonstrates his unique talents and his supporting band includes an incredible lineup of musicians. Blackmore locks into his instrument and showcases his virtuoso skills to an audience of eager fans. While Rainbow is certainly Blackmore's band, all band members get their time to shine. Morris performs an epic keyboard solo, while Burgi takes center stage at the tail end of the band's revamped rendition of the Yardbirds "Still I'm Sad."
Blackmore shines throughout. With his virtuoso skills on full display, his demeanor on stage is so low-key that his performance seems effortless. Rainbow performs the classics, and White's voice is a perfect fit for this incarnation of the band. Filling the shoes of Ronnie James Dio or Joe Lynn Turner is quite the feat for any vocalist, but White proves that he is more than capable. And on the then-new material, he proves that his partnership with Blackmore is as special as previous vocalists.
The video is presented in 4:3 standard TV presentation or Dual Layer Full Frame. The video is crisp and doesn't show any evidence of being a poor transfer from analog to digital. The audio is presented in 2.0 standard stereo, DTS Surround Sound or Dolby Surround 5.1. The DVD comes with a full-color booklet with extensive liner notes and full-color photos of Rainbow.
For fans who want the full-on electric experience of Blackmore, not the Renaissance folk-rock of his current band, Backmore's Night, you should pick up a copy of Black Masquerade. The DVD is a highlight of all the releases that Eagle Rock has delivered in 2013.
Genre: Hard Rock
Line-Up:
Ritchie Blackmore (guitar)
Doogie White (vocals)
Candice Night (vocals)
Paul Morris (keyboards)
Greg Smith (bass)
Chuck Burgi (drums)
Track Listing:
01. Introduction
02. Spotlight Kid
03. Too Late For Tears
04. Long Live Rock 'N' Roll/Black Night
05. Hunting Humans
06. Wolf To The Moon/Difficult To Cure
07. Keyboard Solo
08. Still I'm Sad
09. Temple Of The King
10. Black Masquerade
11. Ariel
12. Since You've Been Gone
13. Perfect Strangers
14. Sixteenth Century Greensleeves
15. Hall Of The Mountain King
16. Burn
17. Smoke On The Water
Label: Eagle Vision
Hardrock Haven rating: n/a