Royal Hunt | A Life To Die For
by Justin Gaines
– Senior Columnist/News Editor —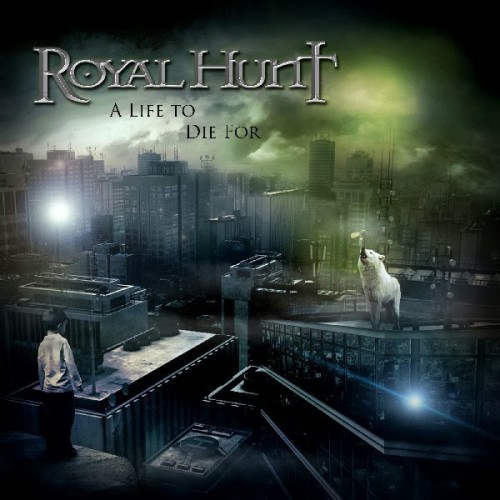 Danish melodic/progressive metal band Royal Hunt is back with a new album, their 12th overall, titled A Life To Die For. The band has been busy of late. The last couple of years have seen the return of fan favorite vocalist DC Cooper, a vintage DVD release as well as a career-spanning retrospective to celebrate their 20th anniversary. Now the band enters their third decade with the singer who helped make their first decade so memorable.
Perhaps the look back at the last 20 years put keyboardist and chief songwriter Andre Andersen in a reflective frame of mind, because A Life To Die For seems to capture all of the elements of the Royal Hunt sound over the years. Andersen's atmospheric keyboards take center stage of course, but guitarist Jonas Larsen cuts loose with some dazzlingly intricate solos. And of course there's DC Cooper, whose voice was such a huge part of Royal Hunt's appeal back in the '90s. He delivers another rock-solid performance here, and even if he sticks to a midrange to match the overall tone of the songs, it's still magic to hear him singing alongside Andersen's keys.
With just seven songs spanning 46 minutes, A Life To Die For is a fairly brief album, but it's also free of filler. By and large, the songs are all mid-tempo, melodic, feature those signature backup vocals and stick to a 5-6 minute length. The album is bookended by a pair of long songs though, the 9-minute "Hell Comes Down From Heaven" and the 8-minute title track, both of which are highlights and really capture that Paradox-style epic Royal Hunt sound. "A Bullet's Tale" and "Won't Trust, Won't Fear, Won't Beg" are also standouts, especially the latter, which lets Cooper really wail.
It doesn't grab you on first listen the way Show Me How To Live did, but after a couple of spins the songs on A Life To Die For will definitely get their hooks in you. It's another worthy addition to the Royal Hunt discography, and for fans of the classic era of the band it's a welcome return to form.
Genre: Melodic Metal, Progressive Metal
Band:
Allan Sorensen (d)
Andre Andersen (k)
D.C. Cooper (v)
Andreas Passmark (b)
Jonas Larsen (g)
Track Listing:
1. Hell Comes Down From Heaven
2. A Bullet's Tale
3. Running Out of Tears
4. One Minute Left To Live
5. Sign of Yesterday
6. Won't Trust, Won't Fear, Won't Beg
7. A Life to Die For
Label: Frontiers Records
Website: www.royalhunt.com
Hardrock Haven rating: 8/10