SHREDGUY RECORDS AND SUMTHINFIERCE RECORDS COLLABORATE ON NEW TOBY KNAPP RELEASE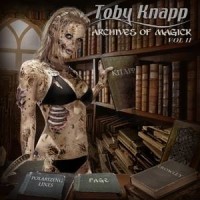 Shredguy Records and Sumthinfierce Records have joined forces to bring fans of heavy metal guitar, Toby Knapp-Archives Of Magick.
This special two hour double disc compilation reaches far back into Knapp's history from 1988 to the present. Unreleased Neo-classical instrumentals, never before heard Onward tracks and serious explorations into extreme musical genres. This limited pressing is autographed by Knapp, who has had a very prolific year with the release of the critically acclaimed Static Warfare and the upcoming reissues of his band Onwards first two albums.
Michael McDowell of Shredguy Records says about the project, "It has been great working with Curtis Wray and Sumthinfierce Records. Curtis Wray has a passion for music that is unrivaled in this business. We are both based in Ohio(USA) and have been releasing music for the past few years, but never had a joint release. There have been projects we tried to get going with some local yokels in Ohio that ultimately failed, so it was great working with a professional and internationally known guitar player like Toby Knapp who has toured the world and is known throughout the guitar community as a great player."
This limited edition cd can be purchased at www.sumthinfierce.com and www.tobyknapp.bigcartel.com