The Nearly Deads | Survival Guide EP
by Matt Karpe
– Columnist —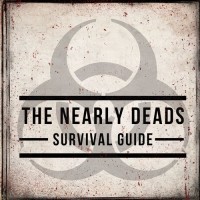 Female fronted pop punk and rock bands have always existed, but it seems that since Paramore exploded onto the scene nearly ten years ago now, this formula for success has produced an overpopulated sub-genre that is sometimes lacking in diversity.
The Nearly Deads, hailing from Tampa via Nashville, has a band name that could give you an early impression of being a horrorpunk or psychobilly band, but on opening track "Brave," you realize that this is more Paramore than say, The Creepshow.
That trusted formula already mentioned is in place here; a pretty lead singer with a good vocal style of attitude and melody, and a backing band that bring the noise and delicious hooks. Theresa Jeane sings over a dominating bass line from Kevin Koelsch, as Steve Tobi's guitar riffs contribute to the first catchy chorus of the EP, while Cory Walen pounds the drums in energetic fashion.
"Never Look Back" is an excellent anthem with an enormous chorus that is hard to resist singing along to. TJ's vocals are confident and cocky, and she is a lead singer that all the boys will love.
"Changeover" finds the drums in an overriding mood and if you turn the bass up on your speakers, you may just feel your heart trying to burst out of your chest.
"Reasons" is a rather generic pop punk song, except The Nearly Deads play this so much better than their contemporaries, and "Fact & Friction" finds TJ adding the piano to her arsenal which provides the undertones throughout. With another storming chorus and even a small guitar solo, this EP goes from strength to strength.
There is also a nice slowed down piano version of "Never Look Back" which shows the delicacy in TJ's voice, and it ends a highly profitable mini album.
The Nearly Deads survival guide won't help you to outlast a natural disaster, or even an onslaught of zombies like their "Never Look Back" promo video showcases, but you can be sure that the six tracks here will feed your appetite until their next musical release.
Genre: Post-Grunge, Rock, Pop Punk
Band:
Theresa Jeane- Vocals/Keys
Steve Tobi- Guitar
Kevin Koelsch- Bass
Cory Walen- Drums
Track Listing:
Brave
Never Look Back
Changeover
Reasons
Fact & Friction
Never Look Back (Reanimated)
Record Label: Standby Records
Website: www.thenearlydeads.com
Hardrock Haven Rating: 8.5/10