The Rides | Can't Get Enough
by Alissa Ordabai
– Senior Columnist —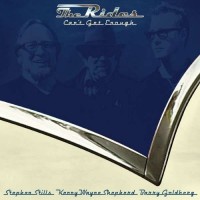 Stephen Stills of Buffalo Springfield and CSN fame teams up with fellow classic rock vet Barry Goldberg and young guitar gun Kenny Wayne Shepherd to refresh some vintage oldies and to concoct some originals. If the cover doesn't tip you off, then the very first track will – on opener "Roadhouse" Stills jumps right into that 40s/50s blues feel with gutsy aplomb. The gravel-gargling voice, the guitar swollen with distortion, and the plain-spoken solo nail the vibe where it will stay for much of the record.
Shepherd, 32 years Stills's junior, may sound slicker and brisker than the 68-year-old patriarch, but inter-generational gap gives extra dimension to both characters. On Neil Young cover "Rockin' in the Free Word" where Stills and Shepherd trade solos, the tension between the simplicity and the chopsy swagger opens up a panoramic view of rock's transfigurations. And when Goldberg's keyboard isn't laying down the pneumatic, float-on-air foundation to the vocals and the solos, he pitches in with his own raucous leads, as on Elmore James's "Talk to Me Baby".
Five out of ten tracks showcase new material which happily resonates with the covers. And on more introspective originals the pensive lyrics couldn't have had a better voice than Stills's to deliver them. His pipes may not wing it as nimbly as in his heyday, but worldly-wise poise of a tribal elder doesn't go with youthful voices. For that we have Shepherd who sings confidently on the covers, and with biggest zing on Iggy Pop's "Search and Destroy". The old and the new join together not just in tasteful hat-tipping to the past, but in helping it carry on into tomorrow.
Genre: Blues, Rock, Blues-rock
Personnel:
Stephen Stills – vocals, guitar
Kenny Wayne Shepherd – vocals, guitar
Barry Goldberg – keyboards
Chris Layton – drums
Kevin McCormick – bass
Track Listing:
1. Roadhouse (Stephen Stills, Kenny Wayne Shepherd, Barry Goldberg)
2. That's a Pretty Good Love (Bryant Lucas, Fred Mendelsohn)
3. Don't Want Lies (Stephen Stills, Kenny Wayne Shepherd, Barry Goldberg)
4. Search and Destroy (Iggy Pop, James Robert Williamson)
5. Can't Get Enough (Stephen Stills, Kenny Wayne Shepherd, Barry Goldberg)
6. Honey Bee (Muddy Waters)
7. Rockin' in the Free World (Neil Young, Frank M. Sampedro)
8. Talk to Me Baby (Elmore James)
9. Only Tear Drops Fall (Stephen Stills, Kenny Wayne Shepherd, Barry Goldberg)
10. Word Game (Stephen Stills)
Label: Provogue, Mascot Label Group
Online: www.stephenstills.com; www.kennywayneshepherd.net; www.facebook.com/barrygoldbergmusic?fref=ts
Hardrock Haven rating: 7/10