The Stimulators | Rhythm Fever
by Alissa Ordabai
– Senior Columnist —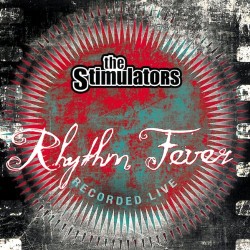 These days when rock is losing its Dionysian steam and ditches its earnest romanticism, other genres lure in those looking for some back-to-the-basics essentials. The Stimulators may not aim at cutting-edge experimentation, but the way they warm your soul with their cocktail of reggae, ska, rumba, 50s-style R&B, jazz, and classic rock makes them a restorative heart remedy for our cynical times.
Their 9th release is a live album made up of nine new songs, a couple of old hits, and a 15-minute jam around a Bo Diddley classic. On standout "Way of the World" the visceral drive of reggae vibrates with such organic feel for the original source, you have to check the liner notes again to make sure the Stimulators really do hail from Germany. They do, but authenticity of delivery by guest singer Adriano Prestel transports you to Jamaica faster than you can say "dat a shot."
Although things become clearer when you learn that the band's founding member and singer Oliver Stephan grew up in Africa. A son of a journalist, an emblematic European literato, and a ska pioneer in his native Germany, Stephan discovered rock at a boarding school in England in his teens, and further expanded his soundscape while traveling in Jamaica, Mexico, and the States in the late 70s.
On "Feedback" Stephan bags that bona fide Southern rock vibe with verity of someone who has an innate knack for adopting cultures from all over the world. The melody layers a wistful haze over the bouncy groove lit up by guitar and sax leads. Guitarist Peter Schneider (also a well-traveled cosmopolitan) solos so eloquently, you understand why Ike Turner hired him on the spot for his band back in 1996.
Other gems follow, such as "Come to My Kitchen" – a ballad where Prestel, Schneider, and saxophonist Marcio Tubino embark on a woe-steeped journey from tender introspection to a full-on emotional blow-up. But while the band excels at true-to-life reggae, rockabilly, or note-perfect soul a la James Brown, they also serve up some rousing jams. The closing track starts with Stephan singing a straightforward Bo Diddley tune and then develops into a manic free-for-all with Prestel going berserk over the band's spare comping.
Schneider and trumpeter Florian Sagner's further fuel the proceedings. When at blastoff Schneider echoes Jimmy Page's wah-wah lines off "How Many More Times" to play up the groove's ontogeny, the gesture reads like a nod between co-conspirators. But when he quotes Hendrix's "Voodoo Chile" amidst the rowdy solo, the band's upfront fandom becomes so irresistible, you couldn't wish for a better finale to a 70-minute trip across genres spawned by the African continent.
Genre: Rock, Reggae, Ska, R&B, Rumba, Jazz, Soul, Rockabilly, Blues
Personnel:
Oliver Stephan – lead vocals, guitar
Adriano Prestel – special guest, lead vocals
Peter Schneider – lead guitar
Marcio Tubino – saxophone, vocals, percussion
Florian Sagner – trumpet, vocals, percussion
Uli Lehman – bass, vocals
Oscar Poehl – drums, vocals
Hans Muehlegg – percussion, vocals
Tracking listing:
1. Black Star Liner
2. Keepin' It Going
3. Way of the World
4. Caipirinha
5. Home
6. Come to My Kitchen
7. Man Cool, Woman Cooler
8. Music on My Mind
9. New Day
10. Feedback
11. When You're Not There
12. Diddley Jam
Label: United Sounds Records
Online: www.stimulators.de
Hardrock Haven rating: 8/10