Trauma | Scratch and Scream
by Alissa Ordabai
– Senior Columnist —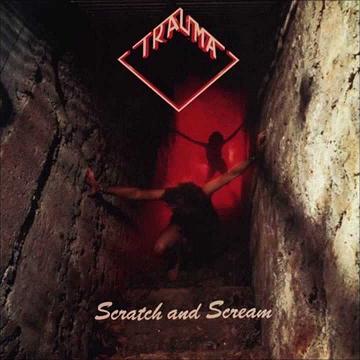 Here is one of the best releases of 2013: an old obscure record by a little-known metal band with some even more obscure bonus tracks featuring Cliff Burton. The band is Trauma – one of Bay Area thrash pioneers of the early 80s, and Scratch and Scream was their only album released in 1984. After sustaining a cult underground status for almost 30 years, it now gets a new lease on life thanks to Shrapnel now reissuing it as a CD for the first time in the US. What adds to the buzz are three bonus tracks with Cliff Burton on the bass, recorded when he still played in Trauma before defecting to Metallica.
The press release allusively talks about "progressive metal", but what we have here sweats and bleeds pure thrash. Although thrash at its tadpole stage where the guitar parts sound like Ritchie Blackmore on steroids and the vocals oscillate between the inspired and the ridiculous. On opener "The Day All Hell Broke Loose" drummer Kris Gustofson lets the drum kit have it like all get out, and everything else bounces off that – the rabid riffing, the breakneck solos, and the howling vocals on top. The dire recording quality and the even more appalling production can't stop this track from bulldozing you off your feet.
The next piece of lunacy titled "Bringing the House Down" does exactly that, and here you also learn that apart from explosive super-fast chops the band also writes instant-grip songs. Tracks that follow whip out a hodgepodge of raucous mini-gems and some half-cooked ideas. But the heat of high-speed, note-perfect guitar solos parboils even the most underdone songs to punchy tang.
The Burton-featuring tracks turn out a mixed bag too, although production sounds better. "Such a Shame" can't flaunt much apart from solid bass parts, but wait for the punky number titled "We're Going Off". When it steps away from the verse / chorus roundabout into a jam, Burton simply starts a fire. The barn-burning bass solo would sound right at home at an acid house rave: utterly futuristic and riotously fun. And when the guitar occasionally joins Burton in his far-out extrapolations, it baffles you how much a genius bassist can expand a guitarist's mind.
Closing track "Woman Be Gone" is a Sabbath-esque ballad and would sound unremarkable, if not for the poetic undercurrent of Burton's bass lines. The inspired dialogue of the bass and the guitar sticks the knife in and turns it as you realise how cruelly we've all been robbed when Burton died aged only 24. A latitude from futuristic experiments, to helping invent a new genre, to mystery-steeped lyricism has never been winged with such audacity by a rock bassist ever since.
Genre: Thrash Metal, Punk, Experimental
Personnel:
Michael Overton – guitar
Donny Hillier – vocals
Kris Gustofson – drums
Ross Alexander Merson – guitar
Lucas Advincula – bass
Track Listing:
1. The Day All Hell Broke Loose
2. Bringin' the House Down
3. I Kill for Less
4. Scratch and Scream
5. The Warlock
6. Lay Low
7. In the End
8. We are Watching You
9. The Flight of the Raven
Bonus Tracks:
10. Such a Shame (feat. Cliff Burton on bass)
11. We're Going off (feat. Cliff Burton on bass)
12. Woman be Gone (feat. Cliff Burton on bass)
Label: Shrapnel Records
Online: http://en.wikipedia.org/wiki/Trauma_(band)
Hardrock Haven rating: 9/10