by Alexandra Mrozowska
– Columnist —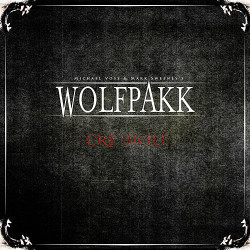 Sweeney and Voss are back! Their "pakk" again comprises a good few of the most respectable names in hard rock and metal – this time the list includes the likes of Ralf Scheepers (Primal Fear), Johnny Gioeli (Axel Rudi Pell, Hardline), Doogie White (Ex-Rainbow, Michael Schenker), Tony Mills (Shy, TNT), Blaze Baley (Ex-Iron Maiden) and more on vocals, joined by instrumentalists such as Kee Marcello (Ex-Europe), Mandy Meyer (Krokus, Ex-Gotthard), Don Airey (Deep Purple), Tony Carey (Ex-Rainbow), Brian Tichy (Whitesnake/Ozzy Osbourne) or Hermann Rarebell (Ex-Scorpions). And again, the expectations of such an impressive list of guests (let alone the well-deserved reputation of Michael Voss and Mark Sweeney), are high yet met by the quality of the newly released Cry Wolf album.
Picking up particular highlights of the record is not an easy task to do, since vast majority of the tracks maintain the expected standard. There are, however, some outstanding pieces of music among those. One is "Palace of Gold", which attacks with Sabbath-esque riffs and grim, crawling mood – a song which easily could be considered an outtake from the Black Sabbath's legendary 1980 Heaven & Hell album. The icing on the cake to this are Tony Mills' excellent vocals. For the listeners oriented particularly on power metal aesthetics, there are tracks such as "Beast in Me" or "Moonlight". And as for die-hard heavy metal fans – since the day the Gods made heavy metal, by tradition every album must have had its anthem, a fast-paced, driving song to pump your fist and rip your throat to. And while, for instance, Saxon had their "Denim and Leather" or "And the Bands Played On" for the thousands of young headbangers to scream their hearts out to, here "Wakken" serves for such a purpose. Written about one of the biggest open-air festivals in Europe, it follows the cliché with style, completed by great shredding (by Michael Voss himself) and simple, raw, sing-along choruses.
While most of the album is straight-in-your-face, fast-paced, powerful melodic metal, a bit of a slow-down comes with "Cold Winter", a piano-driven ballad with Amanda Somerville on guest vocals. This brings to mind the classic male/female rock duets (Lita Ford and Ozzy's on 1987 "Close My Eyes Forever" to start with) as well as contemporary female-fronted rock bands such as Nightwish or Within Temptation. A song itself is radio-friendly and well-crafted, yet, at the same time – hardly innovative. Another interesting but slightly disappointing track is "Run With the Wolf", a Rainbow cover Tony Carey (a former member of Rainbow Rainbow Rising era line-up) contributed to on keyboards. By having turned the heavy metal classic into more updated, power metal-driven version, Wolfpakk achieve decent results, but having them competing with such a legendary piece may evoke mixed emotions rather than pure awe.
Awe-inspiring is, however, the majority of the material on Cry Wolf, which makes this record one of the best 2013 albums so far. Michael Voss and Mark Sweeney, supported by a significant number of guest musicians (who definitely do not need to be introduced to most rock and metal fans), deliver an album which is varied enough to suit different music tastes, but consistent and balanced at the same time. It is a really solid piece of work every fan of contemporary melodic metal as well as the previous collaborative effort of Voss and Sweeney should not miss. Strongly recommended.
Genre: Melodic Metal
Band:
Mark Sweeney
Michael Voss
Guests:
Vox: Amanda Somerville (Kiske/Somerville), Ralf Scheepers (Primal Fear), Göran Edman (Ex-Yngwie Malmsteen), Johnny Gioeli (Axel Rudi Pell, Hardline), Doogie White (Ex-Rainbow, Michael Schenker), Tony Mills (Shy, TNT), Blaze Baley (Ex-Iron Maiden), Piet Sielck (Iron Savior), Jean-Marc Viller (Callaway)
Bass: Mike Winkler (Session Musician)
Guitars: Kee Marcello (Ex-Europe), Mandy Meyer (Krokus, Ex-Gotthard), Roland Grapow (Masterplan), Martin Rauber (Top4tea)
Keys: Don Airey (Deep Purple), Tony Carey (Ex-Rainbow)
Drums: Gereon Homann (Eat the Gun), Brian Tichy (Whitesnake /Ozzy), Hermann Rarebell (Ex-Scorpions), Roland Jahoda (Ex-Paradox, F.U.C.K.)
Track Listing:
1. Moonlight
2. A Matter Of Time
3. Dark Revelation
4. Cold Winter
5. Palace Of Gold
6. The Beast In Me
7. Wakken
8. Pressure Down
9. Run With The Wolf
10. Cry Wolf
11. Kid Raw
Label: AFM Records
Online: www.wolfpakk.net
Hardrock Haven rating: 9/10