by Joe Mis
– Senior Columnist —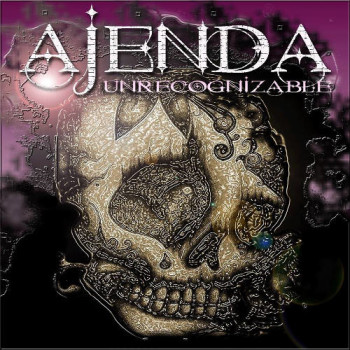 The Belfast-based quartet known as Ajenda have just released a strong debut CD entitled Unrecognizable. Fans of female-fronted rock will truly enjoy the vocal butt-kicking they'll receive from lead singer Jen, and all fans of melodic rock will appreciate the performances of all members of the group as they dish out modern melodic rock at its finest while dancing on the hard rock and commercial rock edge.
The band members go by first names only, and the lineup consists of Jen (vocals), Gavin (guitars), Peter (drums), and Janny (bass). They have quite a set of influences, at times sounding like Pink, Halestorm, Joan Jett, or Carrie Underwood. This odd combination works quite well, and the group manages to pull everything off well without sounding like a cover band, and they play together like the proverbial well-oiled machine.
The catchy "Dirty Rock N Roll" kicks off the CD with style. Big guitars and thick, smoky vocals make this a shining example of a solid rock performance, and this one track sets the bar high for the balance of the album. "Tattoo" is a much smoother modern rock track, sounding a bit like some of Pink's harder material while featuring some excellent guitar work over a strong rhythm line. "Unrecognizable" opens with a massive bass riff and maintains a heavy, blues-infused tune throughout, but with a hard rock chorus. Jen's voice is superb here – very Lizzy Hale meets Pink – and she pushes to her limits. "Paranoia" definitely has a bit of a pop-country tone, but it is nicely done without being maudlin, and would play well almost everywhere. The beautiful acoustic guitar opening is the highlight of the balladesque "Heaven's Tears" – a tune that lets Jen bring out the soulful and sultry aspects of her voice, while turning musical control over to the bass and drums.
"Otherside" is a nicely done slow rocker with fine guitars and drums, but this particular track does indeed sound like it could be handed off as-is to Pink for her next album. "Hollow" is an awesome blues rocker filled with moody vocals, slick guitars, and booming bass – a track just BEGGING to be performed live. Intricate bass and drums drive the smoky "Hatred And Greed," a standout track featuring some nicely done tempo changes. "Fragile" is a superb acoustic ballad – only guitars and a simple, subdued bass – with a passionate vocal duet as guitarist Gavin proves he can do much more than mere backing vocals. This wonderful tune flows into a fairly modern rock instrumental, "Olympus Monz." This well-done piece of music seems a bit out of place on an album filled with such strong singing, but it does allow the boys in the band to show off a bit.
Unrecognizable is very well produced and engineered without being overdone. It has a crisp and clean feel while maintaining a sense of warmth throughout. Most of the songs are simple, straight-ahead rock tunes dealing with personal and emotional situations and events. There is nothing groundbreaking here, but the stylistic diversity makes up for some of the more formulaic song structures. The mix of the album allows bass and drums to be obvious without being intrusive, and the band does a nice job blending acoustic and electric elements while allowing the music to flow.
Overall, Ajenda's Unrecognizable is a very strong full length debut that will have broad appeal to fans of the lighter side of rock. Jen has a superb voice well suited to the bluesier side of rock, and her singing is the true strong point of a band that obviously has no real weaknesses. Everyone in Ajenda is quite talented, so the potent mix of strong vocals and excellent musicianship give Unrecognizable a solid one-two punch. A bit more lyrical and thematic originality and a bit less obvious pop influence will help turn a good band into a great band. Ajenda is definitely a band to watch, and should be doing great things in the not too distant future.
Recommended!
Genre: Hard Rock
Band:
Jen (vocals)
Gavin (guitars)
Peter (drums)
Janny (bass)
Track Listing:
1. Dirty Rock N Roll
2. Tattoo
3. Unrecognizable
4. Paranoia
5. Heaven's Tears
6. Otherside
7. Hollow
8. Hatred And Greed
9. Fragile
10. Olympus Monz
Label: Jenuine Records
Website: http://www.ajendamusic.com/
Hardrock Haven rating: 8/10