Alan Williamson | Another Kind of World Revamp
by John Kindred
– Publisher —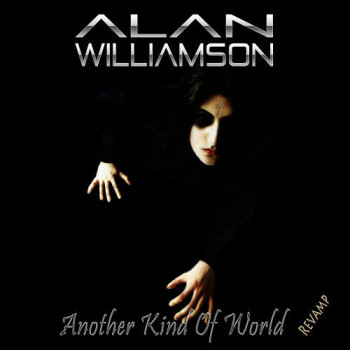 Instrumental guitarist and composer Alan Williamson is back with his latest studio album. This time around, Williamson pays homage to the 2004 EP that started it all for him by re-recording and re-releasing Another Kind of World. This new release has been expanded to 10 songs, including four new tracks. The re-release gets a new title as well, Another Kind of World Revamp.
While Williamson continues to write compositional material that is not exclusively dependent on the life blood of the fret board, Another Kind of World Revamp primarily puts the focus back on the guitar, where it all started. Williamson's compositions combine elements from jazz, fusion and progressive rock. It's this blending that provides diversity of Williamson's compositions.
Williamson displays a keen since of melody; each track is rich in texture, as he incorporates the ambient sounds of keyboards and layered guitars. The guitar solos are very expressive, fast and fluid. The fourth track "Serranna," blends Spanish flamenco themes into a nice melodic song and is a fine example of merging different music genres into a song. The ease with which Williamson moves between genres brings an exceptional dynamic to his music.
Revisiting the original six songs, even though they are re-recorded, we can see that, early on, Williamson was pushing toward his more epic style of compositional writing and music arranging. It is apparent that the direction was headed to a thematic style of music that would present itself in the vein of a movie score. Each song is a canvas on which Williamson paints a portrait for all to see, and he creates a vivid musical journey where his explorations are a window to his soul.
The new songs maintain the same cohesive feel of Another Kind of World Revamp. They don't sound like they were written during a different session or time period and fit quite nicely in with the original songs and maintain a nice dynamic balance as Williamson moves from smooth, clean tones to melodic-bluesy-distorted tones.
Overall, the music on Another Kind of World Revamp sounds as fresh and lively as it ever did. There is an organic vibe within the music that expresses emotional energy in musical terms. Where others may have damaged their credibility, revisiting their back catalog, Williamson brings new life and spirit into his amazing compositions.
Genre: Instrumental, Progressive, Rock
Line-up: Alan Williamson (g)(b)(dp)(k)
Track Listing:
1. Wheels In Motion
2. Another Kind of World Pt I
3. Another Kind of World Pt ii
4. Seranna
5. Fictional Reality
6. War Song
7. The Island
8. The Tree
9. Chasing Days
10. In The Embers
Label: Silhouette Records
Online: http://www.alanwilliamson.com/
Hardrock Haven rating: 9/10