Ascension | Far Beyond The Stars
by Joe Mis
– Senior Columnist —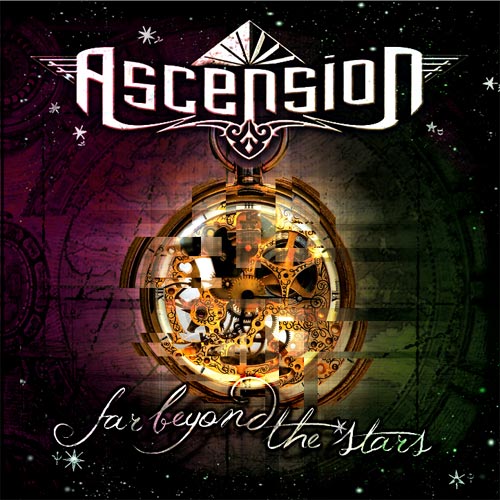 Far Beyond The Stars is the long awaited full length debut release from Soctland's Ascension. It may have taken almost a decade, but this power metal/speed metal release is one to be proud of…
Blending elements of modern power metal with chunks of classic and speed metal – and an overriding sense of melody – gives Ascension a solid sound, and their delivery is spot on. The clever listener will hear influences of everyone from Helloween and Iron Maiden to Primal Fear and Edguy, but at no time does Ascension come across as a copy band. Formed back in 2004, the band went through a number of changes before settling on the lineup of vocalist Ricki Carnie, guitarists Stuart Docherty and Fraser Edwards, bassist Nick Blake, and drummer Dick Gilchrist. The band seems to be seeking a return to the roots of metal by focusing on guitars and eschewing keyboards and synths.
"Somewhere Back In Time" sets the bar high. It is rife with galloping drums, massive walls of guitars, booming bass and Ricki Carnie's masterful high range vocals. Luckily, the balance of the album meets the standards set here. "Blackthorne" brings Carnie's vocals back to the lower edge of his range and highlights the masterful and intricate drum work of Dick Gilchrist. Big chugging guitar riffs and a lively bass line give "Reflected Life" a bit of an Iron Maiden / classic metal feel. "Heavenly" displays the band's upbeat, lighter side and really gives the guitar duo of Edwards and Docherty a chance to shine – very Edguy in tone and delivery. Speed metal is the name of the game in "Moongate," and the coordination of guitars, bass, and drums is a tight as could be. "Orb of the Moons" is all about the guitars – a full blown instrumental that gives the guys a chance to really show their chops.
"The Silver Tide" slows the manic pace down. Blake lays down some truly amazing bass on this ballad-esque track and the acoustic break is spectacular, but Carnie does not sound quite as comfortable with the lower energy level of the vocals. More progressive metal stylings and perhaps just a shade of metalcore appear in the epic "The Time Machine," with machine gun drums supporting a slower and more flowing vocal line. "Far Beyond the Stars" is a quick little instrumental with some light piano that leads into the massive, nearly ten minute "The Avatar (Ascension)." Carnie does a nice job with vocal harmonies as the band gallops along with him, and the spiraling guitars make this a toe-tapping, air-drumming, hum-along-with masterpiece. The band wraps up with a surprisingly well done and very effective cover of Roxette's "Listen To Your Heart" – the take no prisoners double bass drums make this a kick.
Ascension's Far Beyond The Stars is an excellent album, earmarking them as a band to watch. Power metal without synths or big orchestration is an interesting approach to the genre, but the band makes up for the lack of electronics with pure unadulterated guitar chops. Well-crafted songs, catchy rhythms, enthusiastic and energetic delivery coupled with near technical perfection should put this one high on any power metal fan's "gotta have" list. This fine debut should appeal to fans of any metal sub-genre.
Genre: Melodic Power Metal
Band:
Ricki Carnie (vocals)
Stuart Docherty (guitars)
Fraser Edwards (guitars)
Dick Gilchrist (drums)
Nick Blake (bass)
Track Listing:
1. Somewhere Back in Time
2. Blackthorne
3. Reflected Life
4. Heavenly
5. Moongate
6. Orb of the Moons
7. The Silver Tide
8. The Time Machine
9. Far Beyond the Stars
10. The Avatar (Ascension)
11. Listen To Your Heart (Bonus)
Label: Spiritual Beast, Universal
Website: http://www.ascensionband.co.uk/
Hardrock Haven rating: 9/10