Atlantean Kodex | The White Goddess
by Justin Gaines
– Senior Columnist/News Editor —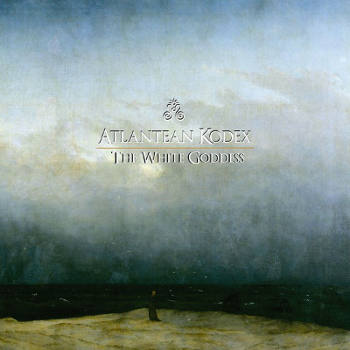 Three years after they stunned many a doom metal fan with their full-length debut The Golden Bough, Germany's Atlantean Kodex is back with a much-anticipated follow-up. Their new album is titled The White Goddess, and expectations surrounding it were quite high. Fortunately the band has delivered another dark epic that not only lives up to the debut, but surpasses it.
As they did on The Golden Bough, Atlantean Kodex once again brings together classic heavy and doom metal influences into one unforgettable package. The White Goddess is about 2/3 Candlemass, with the remaining third split between Bathory and Tony Martin-era Black Sabbath. The heavy, doomy guitar riffs, somber tones and piercing vocals make The White Goddess seem like the sonic equivalent of an H.P. Lovecraft story – cold, majestic, otherworldly and above all epic.
The album has eight tracks, split (almost) evenly between brief, atmospheric, instrumental numbers and 10-minute epic songs. Not surprisingly, it's those longer songs that stand out, starting with the fast and heavy "Sol Invictus," which may be The White Goddess's best song. "Twelve Stars and an Azure Gown" and "Enthroned in Clouds and Fire" also both captures the spirit of the album as well as gets to the heart of Atlantean Kodex's core sound. Don't write off those brief interludes though, as they maintain the album's atmosphere and bridge the epic songs quite well.
The White Goddess is going to make a lot of "Top 10" lists this year. It's one of the most epic albums you'll hear all year, and one of the rare albums where the classic metal influence is incredibly strong but the music doesn't sound at all retro. If heavy metal – emphasis on heavy – is your thing, especially if you're into bands like Candlemass, Solitude Aeternus, In Solitude, Blood Ceremony and Hell, you owe it to yourself to discover Atlantean Kodex.
Genre: Heavy Metal, Doom Metal
Band:
Mario Weiss (d)
Michael Koch (g)
Markus Becker (v)
Florian Kreuzer (b) (v)
Manuel Trummer (g)
Track Listing:
1. Trumpets of Doggerland
2. Sol Invictus
3. Bilwis
4. Heresiarch
5. Twelve Stars and an Azure Gown
6. Der Untergang der Stadt Passau
7. Enthroned in Clouds and Fire
8. White Goddess Unveiled
Label: Cruz Del Sur
Website: www.atlanteankodex.de
Hardrock Haven rating: 9/10