De Van | Current End of Days
by Derric Miller
– Managing Editor —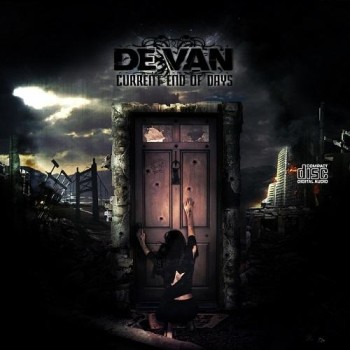 Where the hell did these guys come from? De Van's new album Current End of Days is only their second release, following the incredible debut Planet Botox, and they are simply one of the best bands on the planet making music today. Period. Stick a fork in it and set it aflame, because it's a fact.
De Van's mastery is defined by their melodic sensibilities wrapped around these metal compositions that feature a lyrical component maybe only Todd Smith from Dog Fashion Disco/Polkadot Cadaver/El Creepo can match. These are stories, these are truths, these are words that peel back the perfect skin to expose the cancerous rot beneath … well … everything.
Take marriage, for instance. Many believe it's a sham, it's a wonderful way to destroy your life and keep you legally bound like an indentured servant to someone you grow to hate with all your soul … but you have to sleep with them. In De Van's realm, they attack this concept on the first track, "Until the End of Dime." It'd be one thing if you hear the opening riffs, the eerie keys, and feel the manic rhythm section set your blood burning, but when Eric opens up and sings "I will be right behind, through thick I'm by your side, 'til the end of time … 'til the end of every single dime," THAT'S the magic of De Van. Even without the caustic lyrics, this song is immense. But adding in that other element is what makes De Van stand alone. "Whatever happens, in any event … fifty percent." Yes, preach brothers …
And De Van doesn't need a heavy anthem to sort through the many miseries of mankind. "Love Me" begins softly, with Eric crooning in a spellbinding falsetto, and you'd think this is an honest song of yearning. Then things pick up, he sings "The first time that my fist did all the talking you still found the breath to tell me that you … love me." That's insanely perfect. Later, Eric sings the nightmare of "Did I give you a guilty conscience, that I needed help and I needed it from you, did you eat it up, swallow my lies?" An almost orchestral arrangement, mammoth keys, soaring backing vocals and yet you feel self-loathing if you sing along with them. De Van is a whole new animal, kids.
The title track cuts to the chase, but it's not like De Van ever beats around the bush. "Current End of Days" has a kind of an Evanescence feel and groove. The keys stab at you with in a blunt way, and of course, there's lyrics like "I heard it on the radio, saw it on a TV show, everything is gonna blow … tell us something we don't know." As a vocalist, Eric seems to take more chances on this release prior to their debut, and like the rest of the band … they've just gotten better in every way.
The sarcastic "Beautiful" has "hit song" written all over it, and "Only Words" tackles that whole "works not words" concept, but then the band puts Christ right back in "Christmas" with the song "It's Just a Ride." They don't even mess around, they just blast at you "There ain't no pot of gold at the end of the rainbow! There's no answer to the question 'meaning of life?' but it's alright … it's just a ride." The pounding pace is like they are trying to knock some sense into you, and they double-down on that idea with lyrics like "wake up, rise and shine, you must be blind." Holy crap is this the kind of song that drives millions of Christians mad at this time of year but hey, it's a kick ass song. Check out the raging keys at the end of the song too; it's like Jens Johansson joined the band.
"Hitmachine" is one of the songs that are a critique but also hilarious. When De Van turns their basilisk glare on the state of pop music today, you'll of course hear lyrics like "Nobody cares if it sounds like shit; if you're naked, you're a hit" or "You're not in Kansas anymore Dorothy, you are a jerk off fantasy." It's funny, it's true, it's awesome, but only De Van could so brutally castigate it sonically and lyrically.
After all of this pummeling, it's more than a surprise they chose to close the album with "Victorious." Thematically, it goes against the narrative they so adeptly constructed on every song before, and against the title of the release itself. Is it a good song? Hell yeah. Should it be on this album? Try these lyrics on then you decide if it fits: "Make us glorious tonight, pick us up and we will fight … we are your heroes, we will fight." It's as uplifting as a Katy Perry hit, but … De Van? Maybe we missed the point …
Current End of Days should make De Van a household name, in every country. It's that good. And the state of the music industry is exactly what De Van says it is, so the band probably won't get the accolades and success they rightly deserve. So however cynical the band seems today, wait until next time around. Current End of Days is as good or better than everything released in 2013.
Genre: Metal, Hard Rock
Band:
Eric De Van – vocals
Make Laver – lead guitar
Greg Andersson – lead guitar
Bjarne Gudmundsson – drums
Joan Ericsson – keys
Cee – bass
Track Listing:
1. Until the End of Dime
2. Frankenstein's Bride
3. Love Me
4. Current End of Days
5. Beautiful
6. Only Words
7. Private Hell
8. It's Just a Ride
9. As Good As It Gets
10. Hitmachine
11. Victorious
Online: www.devanband.com
Hardrock Haven rating: 9.3/10