EXODUS COMING TO FEAR FESTEVIL!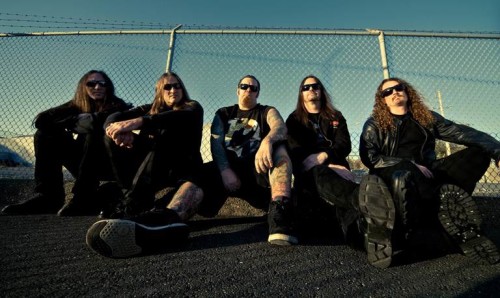 OH YES YES YES!
Are we here at your lil' old Fear Festevil delighted to be able to confirm the appearance of legendary Bay Area thrashers EXODUS on February 7, at the first FEAR FestEvil ever. The event takes place @ Regency Ballroom 1300 Van Ness Avenue San Francisco Ca 94108
When it comes to thrash metal, in particular Bay Area thrash, Exodus are one of the true Godfathers. Formed in 1980 by guitarist Tim Agnello, drummer Tom Hunting, bassist Carlton Melson and some other six-stringer called Kirk Hammett, Agnello soon left, allowing Hammett's guitar tech Gary Holt to step up and in. Hammett then stumbled across Paul Baloff, a demo was recorded, Hammett left to join some other upstarts, Rick Hunolt took the other guitar and the rest became history. Their 1984 debut Bonded By Blood is a stonewall genre classic, and with cranium crunching classics such as '"A Lesson In Violence", "Strike Of The Beast" and more… We can promise that this will not be a calm or gentle soiree more than an aural beatdown. The current line-up of Holt, Lee Altus on guitar, Hunting, Jack Gibson on bass and Rob Dukes on vocals has been in place since 2005. Exodus' last album was 2010's Exhibit B: The Human Condition on Nuclear Blast Records, and the band have just started working on new material for a prospective release later in 2014.