Hammerforce | Access Denied
by Matt Karpe
– Columnist —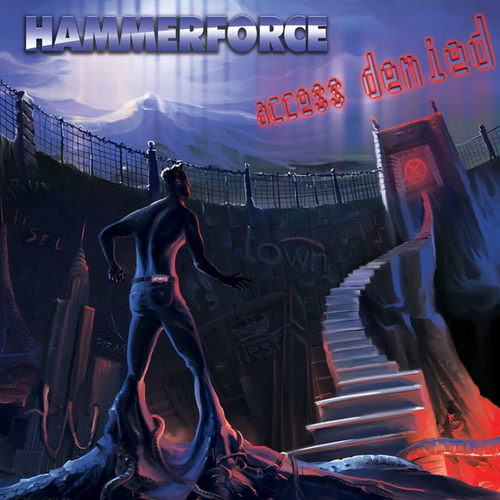 Russian sextet Hammerforce bring their power/progressive metal to the table with their second album Access Denied.
Singing almost completely in their native language, it is an album that people from overseas may only be able to enjoy musically.
"Your War (I Am I)" has some good guitar riffs from the duo of Ilya Kapralov and Ilya Mamaev, and some relentless speed drumming by Aleksandr Zhuchihin, however the repetitive yet first off original contributions come in the form of synthesized sounds which exchange throughout from dance to electronica to techno.
"Stereotypes" has a good guitar solo; something which is again prominent throughout the album.
"Mass Media" is vocally a little more aggressive with stronger output from Ian Breeg, as opposed to the softer and mostly higher pitched tones he uses on the rest of the track listing.
"Second Earth" has some enjoyably constructive drumming which breaks out of the classic speed metal mould. The changes in rhythm are promising and the good guitar tones add to some good harmonies.
"Reflections" has a slow intro, giving you the impression that a ballad is coming, but the songs breaks into more generic power metal that fails to separate itself from all that came before.
Hammerforce are undoubtedly talented musicians, but the majority of Access Denied sounds very much the same, track after track. It is extremely melodic and as already stated- pretty relentless, but the use of synths and other sampling becomes pretty overpowering from a very early outset.
The main issue for speed metal fans, especially English and Americans, is the vocals and the language they are sang in, because you have simply no idea what Hammerforce and on about.
With that said, you have to credit this band because they are making the music they want, and they know that Russia is ultimately their main target audience, and this album will more likely than not go down pretty well in their homeland.
Genre: Power, Progressive, Speed Metal
Band:
Ian Breeg- Vocals (English Lyrics)
Ilya Kapralov- Guitar, Bass
Ilya Manaev- Guitar
Nikita Marzlyakov- Synths
Aleksandr Zhuchihin- Drums
Kate Sergeeva- Russian Lyrics
Track Listing (English Translations)
1. Your War (I Am I)
2. Stereotypes (Templates For All)
3. Nobody (Wasted)
4. Mass Media
5. Fugitive
6. Second Earth (Earth Is On Trial)
7. Change Of Generations (No Place For The Old Men)
8. Reflections
9. Access Denied
Label: Independent
Website: www.hammerforce.ru
Hardrock Haven Rating: 5/10