Hardcore Superstar | C'Mon Take On Me
by Justin Gaines
– Senior Columnist/News Editor —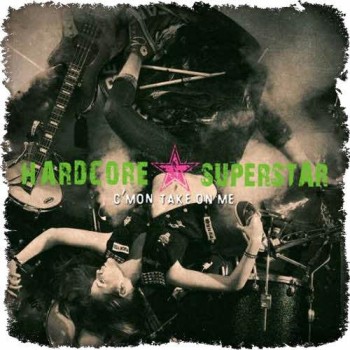 Hardcore Superstar, the godfathers of the Swedish sleaze rock scene returned earlier this year with a new album, their ninth overall, titled C'Mon Take On Me. In the nearly 15 years since the band debuted, a whole wave of party rocking bands has emerged in their wake, but with each new album Hardcore Superstar shows these newcomers how it's done.
Hardcore Superstar isn't rewriting the playbook here. They're at their best when they make wickedly catchy party rock (like a slick Swedish version of Motley Crue and L.A. Guns), and that's what we get with C'Mon Take On Me. The album is in the same vein as Split Your Lip and Beg For It, and that's a good thing. The melodies are completely infectious, the kind that get stuck in your head for days, and the choruses are the kind you want to sing along with right from the start. The band gets a bit snarly and angry with " Are You Gonna Cry Now" and "Dead Man's Shoes," but for the most part it's party anthems like "One More Minute," "Above the Law" and the title track that dominate. The two-part "Won't Take the Blame" is another highlight, though why the song is split in two isn't quite clear.
There are a lot of great new bands in this sleaze rock revival (Crashdiet, Crazy Lixx, H.E.A.T and Reckless Love come to mind), but Hardcore Superstar is still the standard the rest are judged by, and once again they come out on top. If you're a fan of high-octane party rock – whether it's the new breed or the classic '80s Hollywood rockers – you'll want to get your hands on C'Mon Take On Me.
Edition Notes: There are a couple of different versions – Asian exclusives, mostly – of C'Mon Take On Me out there, each containing one or two alternate cuts as bonus tracks.
Genre: Melodic Rock, Sleaze Rock
Band:
Jocke Berg (v)
Martin Sandvik (b)
Vic Zino (g)
Adde Moon (d)
Track Listing:
1. Cutting the Slack
2. C'Mon Take On Me
3. One More Minute
4. Above the Law
5. Are You Gonna Cry Now
6. Stranger of Mine
7. Won't Take the Blame, Part 1
8. Won't Take the Blame, Part 2 (Sect Meeting)
9. Dead Man's Shoes
10. Because of You
11. Too Much Business
12. Long Time No See
Label: Nuclear Blast
Website: www.hardcoresuperstar.com
Hardrock Haven rating: 9.25/10