Inner Sanctum | Knowledge at Hand – The Anthology
by Justin Gaines
– Senior Columnist/News Editor —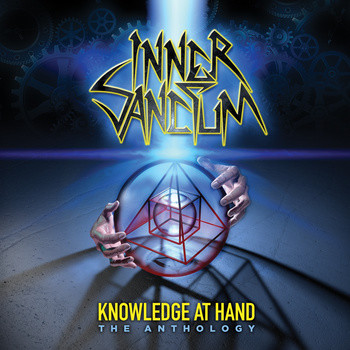 The second band to be spotlighted by Divebomb Records' new Bootcamp series (which focuses on overlooked and forgotten demos, both new and old), is UK-based Inner Sanctum. Given past reissues, Divebomb's appreciation for the UK thrash scene is well documented, but they've unearthed something really special here. Inner Sanctum is one of the rare thrash bands that veered into progressive metal territory, and they did it very well. They released a series of demos between 1989 and 1995, all of which are collected for the first time ever in Knowledge at Hand – The Anthology.
Inner Sanctum has a lot in common with Anacrusis and Toxik (though with a much better singer), and towards the end they almost hit Watchtower levels of technicality. This was a band that embraced the thrash metal sound while at the same time pushing it as far as they could in new directions. On the guitar side they had both the thrashing riffs you could bang heads to as well as some dazzling solos, and the bass work is just jaw dropping in its intricacy. The vocals are clear, strong and steady, sounding at times like Armored Saint's John Bush. There's a melodic aspect to the songs, and the band did a great job balancing between the more typical metal songwriting and all-out technicality.
Knowledge at Hand – The Anthology includes all six of the band's demo tapes (1989's Fear Is Life's Blood, 1991's Static Veins, 1992's Sensorium, 1993's Shine, 1994's Questions and 1995's Knowledge at Hand) across two discs. They're presented in reverse order so the most technical material is up front and by the second disc the songs get more straightforward and thrashing. It's definitely a case of putting the "best foot first," as the later, more progressive songs are the most impressive of these offerings.
Edition Notes: Knowledge at Hand – The Anthology is limited to 500 units and features new cover artwork, vintage photos, and lyrics. The audio has been remastered to the best extent possible given the source material. The quality dips a bit on the very early recordings, but the vast majority of these songs have been cleaned up quite well.
It's a mystery how a band as forward thinking and stunningly talented as this never made it, if only to the cult status that bands like Watchtower and Anacrusis attained. Inner Sanctum seems to have escaped everyone's notice, at least until now. With Knowledge at Hand – The Anthology, fans of classic technical thrash and progressive metal – from Anacrusis to Psychotic Waltz to Fates Warning to Mercury Rising to Believer – can now discover this too well kept secret.
Genre: Thrash Metal, Progressive Metal
Band:
Kevin Jackson (b)
Jed Dawkins (d)
David Hawkins (g)
David Ray (g)
John Knight (v)
Track Listing:
Disc 1
Again
Age of Light
Of Profit to the Wise
Enemy Unseen
Questions?
Poverty of Intellect
Birth of Acquisition
Longevity
Green/Grey
Shine
E.F.M.S.
Sensorium
Disc 2
A Brief Madness
Excellence or Stagnation
Regression
Static Veins
The Unloving Touch
Influx Stupidity
Turn a Blind Eye
Beyond Apocalypse Dawn
Sensing the Horror
Label: Divebomb Records
Website: www.facebook.com/innercanctumuk
Hardrock Haven rating: 8.75/10