Interview with Guitar Virtuoso Michael Abdow
by John Kindred
– Publisher —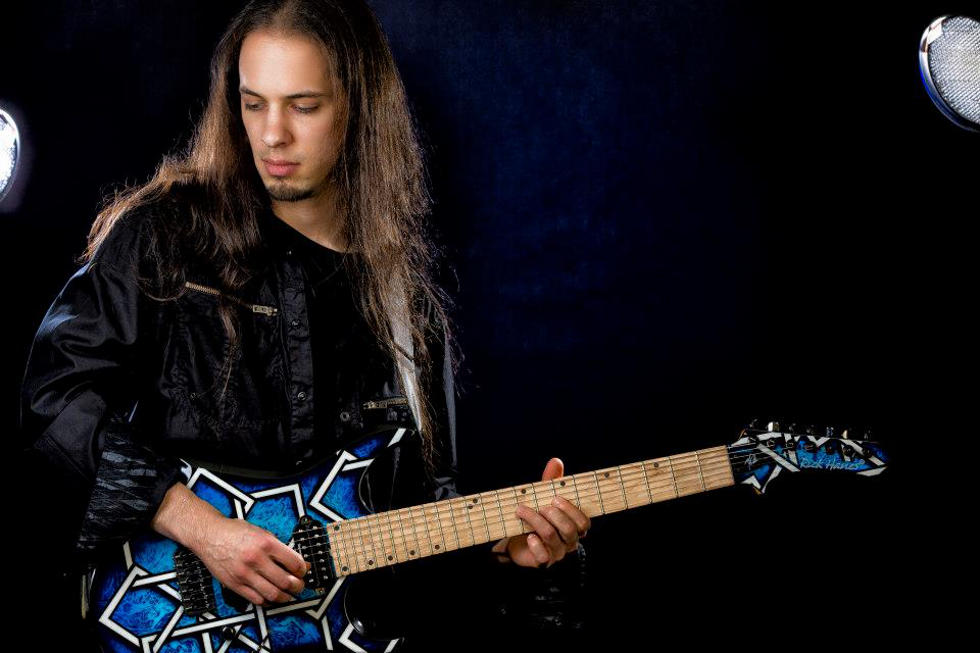 Guitar virtuoso, Michael Abdow, currently on the road with Fates Warning, has just released his second instrumental solo album Life Symbolic on Shredguy Records. Hardrock Haven talks with Michael Abdow about his new album, his endorsement of Rick Hanes guitars, how he landed on Shredguy Records and more…
Hardrock Haven: Thanks for taking time out for Hardrock Haven today.
Michael Abdow: Thank you John! The pleasure is mine.
Hardrock Haven: Your latest instrumental solo CD Life Symbolic was just released on Shredguy Records… this is your second instrumental release, and has taken about 3 years to bring to fruition. Can you explain what the theme of music is about?
Michael Abdow: The overall theme of the music on the record stems from the idea that music is born of intuition. When I start writing a song, I do not really try to control the direction it follows; and so when I finish it, there is a period of reflection when I ask myself what the song really means to me. It is a way of summoning something undefined from within as opposed to setting out to write a song about something that is clear cut. That is also why writing instrumental music, which by definition does not contain lyrics, lends itself to this effect so well. With this sort of approach I am left with all of these dynamic feelings and symbology of different aspects of life.
Hardrock Haven: It took some time for you to put this album together … after 3 years how do you know when the songs are finally complete and ready to be heard?
Michael Abdow: It usually takes me a while to put my instrumental records together because I'm always doing another record or touring with a band during the process. During Life Symbolic, I was also touring, writing and recording with Last Chance To Reason. Still, I put some pressure on myself to record and release this one as part of a more reasonable record cycle. The actual writing period took as long as was needed for the songs to fully realize themselves. Usually, the song knows when it is done. If there is more music that is inspired during a song that compliments the vibe and is a logical and meaningful progression then it is added. Sometimes though, this material will turn into a whole new song with a new set of ideas. I try not to "wrap up" a song because if I'm consciously doing that, then something is wrong. It's not natural. It all has to feel natural.
Hardrock Haven: What are your favorite moments on Life Symbolic? What song conveys your emotional message best?
Michael Abdow: By far my favorite moments on Life Symbolic are during the solo sections of "Innocent Emotion". I wrote and recorded that song when I returned home from the Audio Hammer sessions with Last Chance To Reason. I was in a place where I desperately wanted to return to making my own music and find myself again. Ever since I was a kid, there have been special things that very sincere music has made me feel. These things are a part of the inherent romanticism that is human nature. After I cut those parts in "Innocent Emotion," I realized that those things somehow came out in one of my songs. That in itself is what the whole record is about.
Hardrock Haven: Talk about your fellow bandmates on Life Symbolic, bassist Jon Morency, drummer Mike Lamagna and keyboardist Jimmy Pitts, how do they fit in to your musical puzzle?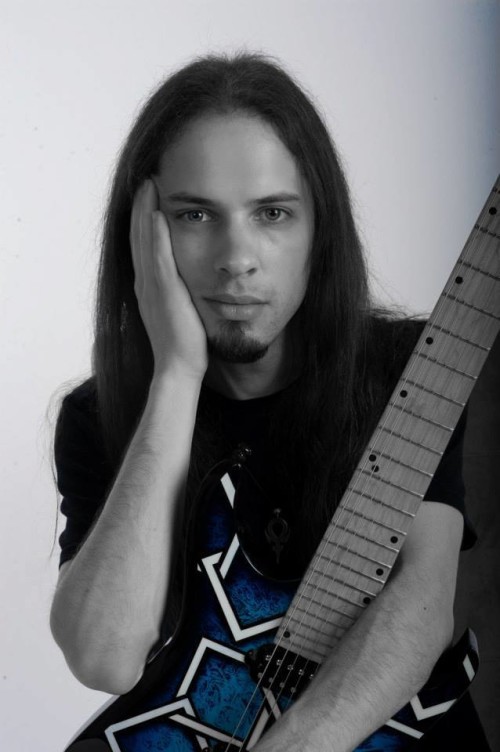 Michael Abdow: Thus far, when I have recorded my solo music, the songs are initially completed by me from A-Z with my drum machine and sequencer. The guitar parts are finalized before the other guys come in. I then take their respective parts away and bring in Mike and Jon to record individually to the music. I start with Mike's drums. He is fantastic because he can sit right in and record with feel to a click track. He adapts easily on the spot to whatever I ask him to do and also brings some great ideas of his own to the table. If I ask him to play behind the beat, he's got it. If I ask him to improvise freely, he's performing a keeper on the first take.
Jon knows exactly what I want on bass. I give him my programmed parts as reference with some notes on what I'm going for and he records himself in his studio. He adds a huge dimension to the music with his feel and sense of melody. By version two of his parts, he's got the perfect lines tracked. Jimmy (Pitts/Minnemann, Fractured Dimension) is a great keyboard player from Missouri. I had one guest solo spot on the record in the song "Threshold" and he was the first guy I asked to play on it. The first thing he sent back to me is what went on the record. He's that good; a very creative, lyrical and a technically proficient player. I want to have him play much more on my next record.
Hardrock Haven: How did you wind up on Michael McDowell's Shredguy Records?
Michael Abdow: I found out about Shredguy Records back in the Myspace days when Mike was releasing some of guitarist Rob Johnson's lesser known recordings. I was and still am a fan of Rob's and so contacted Mike to find out more about his label. I sent him a demo and was featured on his Shredding Across The World Volume 1 and Volume 2 releases. He later released my first record Native Alien in 2010 and now Life Symbolic in 2013.
Hardrock Haven: Having talked with some of your Shredguy label mates, Chris Bickley, Tore St. Moren and Tom Kopyto, all are endorsed by Rick Hanes guitars. And you are all as well. How did you come to start playing Rick Hanes guitars? What makes these guitars unique to all the instrument manufacturers out there today?
Michael Abdow: I found out about Rick Hanes guitars through Chris Bickley. I had seen their guitars that he was playing and was very excited by the style and graphics. It was initially a cosmetic attraction. So many guitars today look like weapons or space-age instruments but what I was seeing from Rick Hanes were traditional guitars that had elegance and a very inspiring, creative flare. At this point, I had owned many guitars and knew what I preferred and what was superior in a guitar's construction. Everything that Rick Hanes was doing with their builds, they were doing right. They are also one of the few manufacturers that use a PLEK machine to dress their frets. I've had my MA7 model for about 14 months now. It has been through touring, recording, flying, a New England winter, and the neck is still perfect (no adjustments). It's a guitar that is so easy to play, very low maintenance, great sounding, and inspiring to pick up. Also, Rick Hanes owner Tommy Kaihatu is deeply invested and puts a lot of love and care into his guitars. This permeates the company and every instrument that comes out of the shop.
Hardrock Haven: You are currently out on the road touring with Fates Warning… how did you land that gig?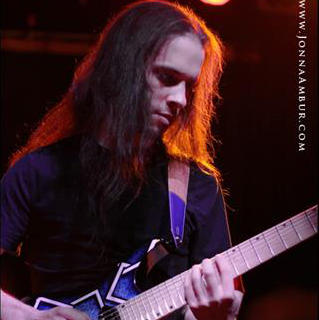 Michael Abdow: When Fates Warning was looking for a fill-in guitarist for Frank Aresti, a mutual friend of ours recommended me to the band. Jim Matheos contacted me and I began the audition process. It was a very quick and exciting period of time for me because I had been a fan of the band for years. The following month I was touring Europe with the band.
Hardrock Haven: What's life on the road like with these music veterans?
Michael Abdow: Life on the road with these guys is full of perspective. Touring with musicians/artists of this caliber and who have been doing it for this long is a special experience that I never thought I'd have. I'm learning every day and getting better as a guitar player every night I step on stage with them. I'm also hearing great stories from their past; something I still can't get my head around because it feels like only a few years ago that I was hacking away at guitar and watching videos of them.
Hardrock Haven: Closing out 2013 and moving on 2014, what can we expect from Michael Abdow in the New Year?
Michael Abdow: In 2014, I'm moving forward with my third solo record. The songs are already in motion but I look forward to digging in more when I am home. I've also been talking with Kenny Benda from Frozen about doing some new music. There are some tentative touring plans in the works, lots of music/styles I want to explore and practice. All in all, it's up in the air, but that is usually how it is.
Hardrock Haven: Thanks again for your time today. Is there anything I haven't asked that you like to convey to your fans and Hardrock Haven faithful?
Michael Abdow: Thank you to everyone for reading about me and for checking out what I'm doing. My website www.michaelabdow.com is the comprehensive resource guide to all of my musical activities. I want to thank you John and Hardrock Haven for spending time with me and for the great questions.
Hardrock Haven: Again thanks.
Michael Abdow: Thanks. It was great talking with you!
Online links:
Read Life Symbolic CD Review here.
Michael Abdow Official Website