by Deb Rao
– Senior Columnist —
Canadian metal band Varga has just released their new CD Enter The Metal. Vocalist and bassist Joe Varga has checked in with Hardrock Haven to discuss Enter The Metal.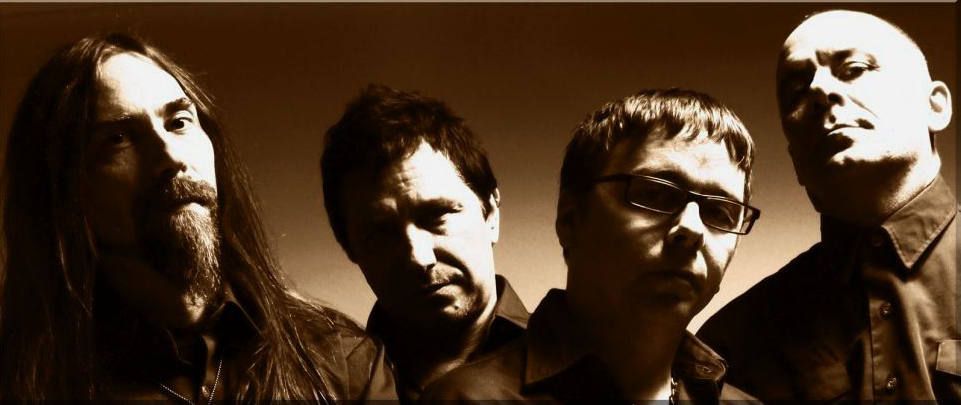 HRH: Joe, tell us about Enter The Metal. How does it differ from your previous releases?
Joe: Actually, it is going back before Prototype was released. Our style was a little different. It was more progressive metal. With a little bit of a thrash edge. We have kind of gone back to our roots of the stuff we like playing best.
HRH: What inspired the band to reform and get back together in 2011?
Joe: It was basically my idea just kind of contacting the fellows and saying let's have a jam or something. Because it has been such a long time. We started basically playing cover gigs. Where we would cover a full classic metal album like Judas Priest or Iron Maiden or Black Sabbath. We started doing gigs like that once in a while. I am like, hey man we should get together and play some of our own songs again. That is how I got the idea of re-cording all of our early stuff. Totally re-vamping everything.
HRH: This is cool too because you will have a new fan base and this will be the first time that they hear the older material.
Joe: Yes, it is cool. Obviously our old fans are coming out to our shows. But it is great. We are getting a lot of feedback from this stuff. New fans included definitely. We are building up a new fan base, which is incredible.
HRH: Are you going to be playing some shows in Canada or the U.S.?
Joe: We just did a show on Dec. 7 in our hometown of Hamilton. It was great and very successful. We cranked out all of our classic metal craziness.
HRH: How do you think in the past seventeen years that the band has evolved over that time period?
Joe: Partially, I think we are all just more mature. We have all grown up a little. I think that reflects on our music. It is more precise. As far as lyrics, it is all fun and games. All that metal lyric content.
HRH: What was it like working with producer Julius Butty?
Joe: It was awesome because he has been a longtime friend of ours. We have been hanging out with him for twenty-five years. We used to playing in bands together with his own band Straightjacket and going further back to Renaissance. Julius is also a great singer. It kind of rubbed off on me a little. It was good to have him on our team.
HRH: Who were some of your influences that you listened to growing up in Ontario?
Joe: Lots of stuff. Obviously there was the heavy metal British stuff like Judas Priest, Iron Maiden, and Black Sabbath. I liked the harder stuff like Venom. Then there was the European metal like King Diamond and Accept. All those old school metal bands. I really enjoy Devin Townsend from Canada who was also in Strapping Young Lad. Also Anthrax, Slayer and Metallica and Megadeth. You can't go wrong with ant of those bands.
HRH: Yes, I just saw Slayer in Vegas. They were awesome.
Joe: I saw some of their web fest. It is great that they are still continuing. It is sad that Jeff is gone. I am sure he would have wanted it this way.
HRH: Canada has such a great legacy with bands emerging out of the city. How do you feel to be a part of this?
Joe: Canada has got some good talent. It is definitely a friendship when it comes to bands in Canada trying to help each other out and stuff like that. Our stuff is quite as bit influenced by Rush by the progressive end of things.
HRH: You have some cool titles for songs on this album. For example "Plane Crash." How did you come up with this title? Are you afraid to fly?
Joe: I have always been on the fence of flying. I wrote the lyrics kind of tongue in cheek. I have been flying a lot the last twenty-five years. I am kind of used to it now. Any time you are in the air, it is a little freaky in my opinion.
HRH: The song "Shark Attack" too. A lot of people are afraid of sharks.
Joe: Of course. "Shark Attack" is not to be taken too seriously. It is a fun metal song from way back when.
HRH: "Beginning Of The End" is a cool title.
Joe: That song has been floating around. We wrote that song back in 1990. I found since that time there has been a couple bands using that title. No worries. It is bound to happen. A lot of complex riff age in that song. And war type lyrics. All of the songs on Enter The Metal and our further release that is coming out in May of 2014 which is called Return Of The Metal basically there is six songs on each disc. All the songs that you here on the disc were actually written from the 1989 – to 1991 period. They were all totally re-done in a new studio environment. A lot of the songs still carry on today lyrically. Especially "No More Clean Air." I basically wrote that about our hometown of Hamilton. Which is an industrial type town. I was quite influenced by where we live up here.
HRH: Any plans to tour the U.S.?
Joe: we are definitely going to try and make it out to the U.S. in 2014. We are just starting to get some shows together again. We got management in place. Besides Canada and U.S. we want to try and get over to Europe in the summer of 2014. We want to try and get as many dates together possibly everywhere.
HRH: That will be great now that you are back in action. Is there anything else that you want to say about the new album?
Joe: It is exciting stuff for us. We are very proud of these recordings. Sonically we think they sound really good. We got to record the bed tracks at a studio close to Hamilton. They just happen to acquire the SSL mixing board from Abbey Road Studios in England. So that is what we basically recorded the first part of the album the bed tracks the drums, the bass, and the rough guitar parts on. It was phenomenal. It is crushing riffs, screaming vocals, crushing drums. It is in your face and definitely a force to be reckoned with.
HRH: That is cool. We wish you the best of luck and hope you make it out to the States.
Visit the band online: http://vargahq.com/