Julia Kosterova | Springs of Time
by Alissa Ordabai
– Senior Columnist —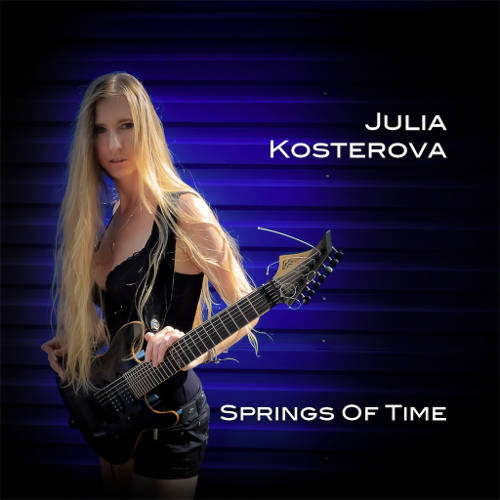 You have to admire the sheer honesty of someone who releases an EP instead of a full-length album simply because this is how much top-drawer material they have at the moment. Especially if that someone is an instrumental guitarist – a myopic breed who love to stretch a handful of ideas into an epic saga of a release. But surprises don't end here. The instrumental guitarist in question is A) a woman who plays brilliant Neo-classically inspired, self-penned gems, and B) hails from Russia – not the biggest rock star exporter in the world, to put it mildly.
Cleverly titled opener "Springs of Time" is also a clever mini-adventure. Its proud, bouncy strut instantly takes you back to the golden age of shred (think late 80s and early 90s), but also veers so elegantly toward jazz, the result is an assertively modern sound – sunny, poetic, and nigh-virtuosic. The way the harmony zigzags into unpredictable directions, the sudden meter changes, and the muscle of Kosterova's rough-hewn tone instantly let you know she wants to compete with the smartest boys and girls.
Superstar keyboardist Derric Sherinian (Malmsteen, MacAlpine, Zakk Wylde) not only provides spirited support to Kosterova's extrapolations, but opens windows into other dimensions with his leads. On "Springs of Time" his solo dispenses a psychoactive dose of neo-prog, and on "The Wave of Luck" that follows – genre-defying magic to both lift and deepen Kosterova's Lynch-esque punchy riffing. A clear – and a rare – case of a guest musician generously contributing to the composer's vision.
As with all young shredders, sometimes the sheer nitty-gritty of technique and a wish to show it off take over the compositional plan. But overall Kosterova comes through as a flexible and imaginative writer. On "Stranger" she has a successful go at writing a hooky pop tune, but it's "Hi Power" that challenges you the most by becoming a though-composed experiment in combining pop appeal with no-holds-barred impro. Six minutes on and Kosterova comes out of this test triumphant: her free-thinking, free-feeling approach plus solid erudition turn this venture into a self-determining journey without losing the narrative thread. To sum it all up, here we have a bright, exciting young player who is a huge asset to her home country's emerging shred cred.
Genre: Instrumental Guitar, Rock, Neo-classical, Fusion, Experimental
Track Listing:
1. Springs of Time (feat. Derek Sherinian and Marco Minnemann)
2. The Wave of Luck (feat. Derek Sherinian)
3. Stranger (feat. Derek Sherinian and Brian Tichy)
4. Hi Power (feat. Derek Sherinian and Marco Minnemann)
Label: July Records
Online: www.juliakosterova.com
Hardrock Haven rating: 8/10