by Justin Gaines
– Senior Columnist/News Editor —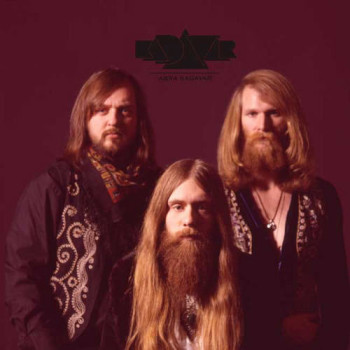 The bearded German stoner rock/doom metal/heavy rock power trio Kadavar quickly followed-up their 2012 self-titled debut EP with the full-length Abra Kadavar, which was released earlier this year. Kadavar, which can be described as the German answer to bands like Witchcraft and Graveyard, finds themselves on the Nuclear Blast label this time around, which means a much larger profile and high expectations.
While Kadavar's sound, like a lot of these retro/stoner type bands, involves a great deal of old school Black Sabbath worship (and a nod to the first two Led Zeppelin albums), the band also reaches back to some of the more obscure sounds of the late '60s and early '70s heavy rock scene, like Blue Cheer, High Tide and Flower Travelin' Band. It's heavy, fuzzy and has a great groove and a nice sense of melody. Heavy riffs and grooving rhythms dominate, but there's a strong blues side to the songs on Abra Kadavar, as well as a fantastic sense of melody and a decidedly fuzzy and unpolished production. Of all the albums in this scene, Abra Kadavar is the one that truly sounds like it could actually have been released back in 1970. "Doomsday Machine," "Black Snake" and "Abra Kadabra" are the standouts, but as with their debut Kadavar serves up a lean, filler-free album in Abra Kadavar.
Between Nuclear Blast's recent signings (Orchid, Graveyard, Scorpion Child, etc.), the Rise Above roster and a whole lot of independents, the whole retro/stoner scene is getting pretty crowded these days. Quality tends to stand out in a crowd though, and that's exactly what Kadavar does with Abra Kadavar. This is one of the best heavy rock albums released in 2013, and a "must have" for fans of this kind of music, whether that's new bands like Graveyard and Witchcraft or the originators in Black Sabbath, Led Zeppelin and the like.
Edition Notes: The CD version of Abra Kadavar contains a bonus track titled "The Man I Shot" that is not available digitally.
Genre: Heavy Rock, Stoner Rock, Doom Metal
Band:
Lupus Lindemann (v) (g) (k)
Tiger (d) (k) (g) (v)
Mammut (g)
Track Listing:
1. Come Back Life
2. Doomsday Machine
3. Eye of the Storm
4. Black Snake
5. Dust
6. Fire
7. Liquid Dream
8. Rhythm for Endless Minds
9. Abra Kadabra
Label: Nuclear Blast
Website: www.facebook.com/kadavarofficial
Hardrock Haven rating: 9.5/10