by Justin Gaines
– Senior Columnist/News Editor —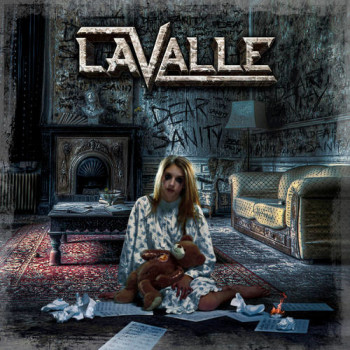 Dear Sanity is the debut offering from melodic hard rock newcomers LaValle. Led by guitarist Eddie LaValle and featuring bassist Paul Logue (Eden's Curse), vocalist Carsten "Lizard" Schulz (Evidence One) and drummer Ramy Ali (Evidence One), LaValle plays old school classic melodic hard rock like the '80s never ended.
Dear Sanity came to our attention late in the year, but had steadily been gathering a considerable amount of buzz among melodic rock fans online. It turns out the album is more than worthy of the hype. Right off the bat LaValle has a pair of strong asset in Logue, who also lends his songwriting talents, and Schulz, one of the more powerful and recognizable voices in European melodic metal. Add those two to Eddie LaValle's dazzling and soulful guitar work and ability to write hook after hook and the result is impossible to resist. The songs on Dear Sanity sound like they're coming straight from 1989, full of wicked hooks, driving rhythms, huge choruses with equally huge backing vocals and an overall vibe that brings to mind Dokken, Hurricane and House of Lords.
It's hard to single out specific highlights of an album that's this well written, produced and executed overall, but Dear Sanity does have some gems that cautious fans may want to sample if they're on the fence about parting with their hard earned cash. If "Don't Cry," "Lucky Ones" and "Break Your Heart" don't convince you, nothing will.
This one's a winner, and one of the best releases by a brand new band the melodic hard rock scene has seen in recent years. LaValle also has a nice crossover appeal to fans of both classic '80s hard rock as well as the more recent European bands. Whether you're into Dokken and Lynch Mob or Eden's Curse and Coldspell, chances are good you're going to dig Dear Sanity in a big way.
Genre: Melodic Rock, Hard Rock
Band:
Carsten Schulz (v)
Eddie LaValle (g)
Paul Logue (b) (v)
Ramy Ali (d)
Track Listing:
1. Fading Like the Sun
2. Scared To Love
3. Don't Cry
4. One Day at a Time
5. Cry of the Wolf
6. The Lucky Ones
7. Smoke and Mirrors
8. Break Your Heart
9. Rock Your World
10. Wait Too Long
Label: Kivel Records
Website: www.lavallerocks.com
Hardrock Haven rating: 9/10