Lineup revealed for Melodicrockfest 4, H.E.A.T and The Poodles to Headline
The lineup for next year's Melodicrockfest 4 event, which will return to Chicago's H.O.M.E. Bar from Friday October 3 – Sunday October 5, 2014, has been revealed.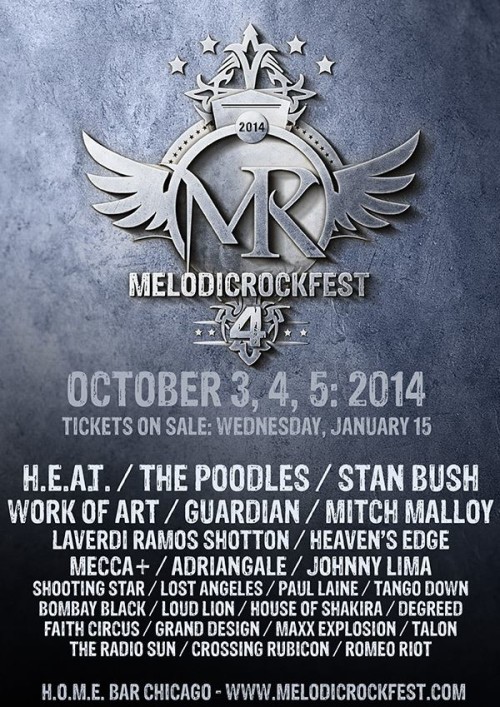 MRF4 will be North American fans' first ever chance to see some of the most in demand European rock bands, including AOR stars Work Of Art; hard rock heroes The Poodles and Europe's most popular melodic rock band – H.E.A.T!
Joining them for the 3-Day rock extravaganza are some of the USA's most respected and admired melodic rock artists for a series of 'greatest hits, full band sets' – Stan Bush, Mitch Malloy, Johnny Lima and Paul Laine. And there's still more as classic hard rockers Heaven's Edge bring their acclaimed reunited lineup to MRF as do Christian rockersGuardian, playing a rare live show with their classic formation.
Additional MRF first- timers include classic rock superstars Shooting Star, and a trio of Sweden's acclaimed melodic rock scene artists -House of Shakira, Degreed and Grand Design. Norway's Faith Circus will ensure it isn't an all-Swedish affair! 
Returning to the party from MRF3 are Adriangale, Tango Down, Bombay Black, Crossing Rubicon and Maxx Explosion, who will deliver a longer set after their very late night MRF3 cameo.
Very popular new comers The Radio Sun from Australia will also return in a duel role – performing songs from their debut album in their own set and also reprising their role as Paul Laine's backing band for Paul's first ever foray down under. Featured in Paul's best of set will be tracks from his cult classic Stick It In Your Ear album as well as songs from his time in Danger Danger and the Shugaazer project.
Also returning is the ever popular Mecca, who will once again be joined by a popular special guest – Mr. Jimi Jamison! Together the guys will again dig deep into the catalogue for some fan surprises. There's also the chance of a second very special guest…
MRF4 will also mark the very special live debut of 2 brand new projects!
L.R.S. is killer new project featuring vocalist Tommy La Verdi (21 Guns), Josh Ramos (The Storm, Two Fires), Michael Shotton (Von Groove, Airtime) and Alessandro Del Vecchio (Eden's Curse, Revolution Road, Edge of Forever). The band will make their debut live performance at MRF, performing songs from their debut album as well as fan favourites from 21 Guns, Von Groove & The Storm!
Lost Angeles is the other new project, this one featuring Paul Sabu, Dennis Dries and Eric Ragno. Each member paid their dues on the Sunset Strip, which took them far beyond! Their appearance at Melodic Rock Fest 4 will feature songs from their upcoming debut CD, along with classic tracks from Only Child, White Sister, Tattoo Rodeo and Paul's solo work! 
Cult rock project Loud Lion will be MRF special guests for a mini-acoustic set featuring some of the songs from their long lost (now found) one-off album. The band's driving force of Bleu McAuley and Taylor Locke will hang around to mingle with fans over the weekend.
Rounding out the MRF4 lineup is hard rockers Talon, who will debut tracks from their new studio album and perform alongside Stan Bushas his backing band, the very task they handled brilliantly back in 2002 at the UK Gods Festival.
Mark Giovi (Far Cry) returns in his new band Romeo Riot and 7th Heaven will come up with something special and close out Friday night with one of their regular late nite shows, with low cost entry after 11pm for their local fan base.
All the expected highlights and plans for MelodicRockFest 4 are impossible to summarize in one press release, so expect further updates and details to come over the coming weeks and months. Tickets for MRF4 will go on sale Wednesday January 15 at a precise time to be announced soon.
Vist www.melodicrockfest.com for more details.