by Anabel Dflux
– Senior Photojournalist —
December 9, 2013 at The Troubadour in West Hollywood, CA. —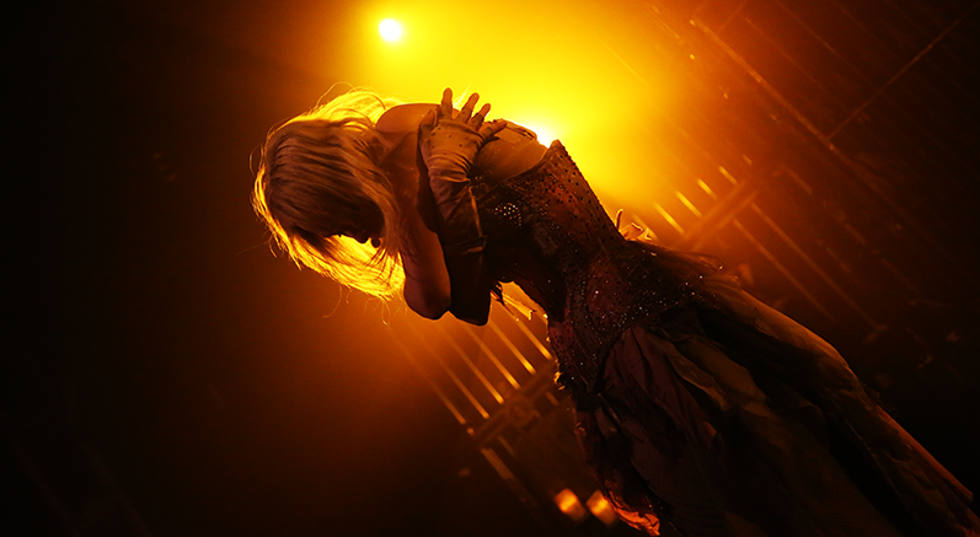 The Troubadour welcomed a very special, unique, exquisite show inside of its doors on December 9th, 2013. An intermittent mix of burlesque, Broadway musical, and edgy vocals, Emilie Autumn gave an exceptionally memorable performance at this intimate venue. Those who follow the singer's career know that Emilie prides herself on large stage props and fantastical costumes, so, the infamous Troubadour was an interesting venue choice as most don't expect such an extravagant get-up to fit… But alas, it sure did!
This concert has no supporting bands- just a main act. The opening number featured Emilie's dancers surrounding a cage in burlesque-inspired garb, initiated the audience to scream and chant. The front woman herself donned a large headpiece. The set featured a variety of wardrobe changes, each fun and unique outfits that really added to the theme. Each and every prop on the stage was utilized to its full potential. The two accompanying girls definitely entertained the crowd with their endearing characters and dark humor. They both had a highlight during the show- Veronica did an entire feather routine reminiscent of Cabernet dance, while the other did a very powerful routine with large pieces of fabric.
The set list included old favorites and new loves, a brilliant mixture. All thematic, of course, in true Emilie fashion the story on stage revolved around the Asylum for Wayward Victorian Girls, a concept based on the singer's autobiographical/psychological thriller novel of the same name.
Definitely not your average rock show, but an absolutely worthwhile experience!
Emilie Autumn Concert Photo Gallery