LIVE! | Slayer with Gojira and 4ARM
by Jonna Ambur
– Senior Photojournalist —
November 26, 2013 at Oakdale Theater in Wallingford, CT. —
Synonymous with metal. Icons in music. They are … Slayer!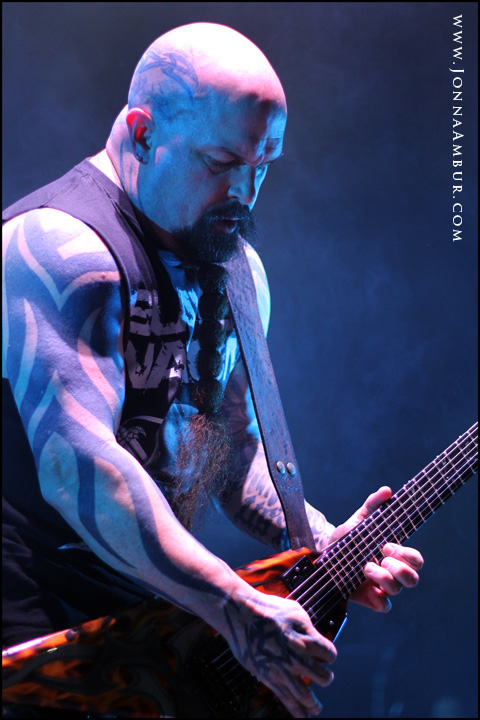 Tonight, Tommy Araya, Kerry King, Paul Bostaph and Gary Holt took the stage with Jeff Hanneman's guitar proudly displayed by the speakers. From the moment the first sounds pierced through the room and the curtain dropped all eyes and ears were set on that stage. This is a band that has some of the most loyal followers in the industry and they let it be known. The support that their fans have shown the band, musically and personally is limitless.
Since 1981 when King and Hanneman formed Slayer the band has put out 11 studio albums, been nominated for five Grammy's and won two and were 2003's Metal Edge Reader's Choice winners. They pride themselves on the fact that they have stayed true to their roots since day one and that is something that doesn't go unnoticed by anyone.
It was unknown how the band would continue after Hanneman's passing earlier this year. In true form, they pressed on and started touring in the Fall. Joined by French band, Gojira and 4ARM from Australia, these 3 bands create a huge sound song after song. Each band complimented each other and it's a fair assumption is that the two opening bands gained a pretty serious extended fan base from this tour. Amazing musicians in their own right, Gojira and 4ARM set the night up perfectly for Slayer.
This is a tour that shouldn't be missed.
Slayer's Set List:
Hell Awaits
The Antichrist
Necrophiliac
Mandatory Suicide
Captor of Sin
War Ensemble
Postmortem
Altar of Sacrifice
Jesus Saves
At Dawn They Sleep
Die by the Sword
Spirit in Black
Hallowed Point
Seasons in the Abyss
Strike of the Beast (Exodus cover)
Dead Skin Mask
Raining Blood
Black Magic
Encore:
South of Heaven
Angel of Death
LIVE! | Slayer with Gojira and 4ARM Photo Gallery