Manta Ray | Visions of Towering Alchemy
by Justin Gaines
– Senior Columnist/News Editor —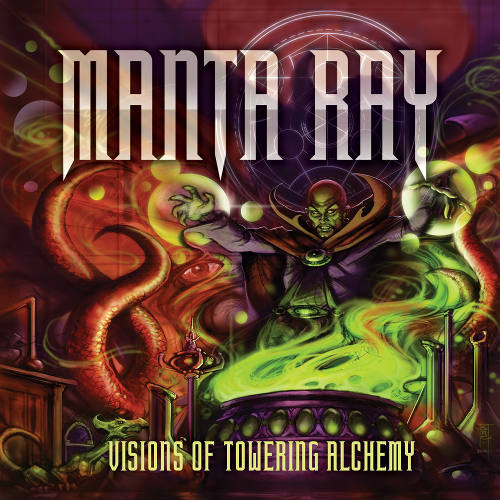 The first band in the Divebomb label's new Bootcamp series, which spotlights overlooked and forgotten demos (both new and old), is Dallas-based power metal band Manta Ray. The band was formed at the end of the '80s by singer/guitarist Lance Harvill and featured bassist David Harbour and drummer John Hebert, both of whom would go on to join Chastain and King Diamond, as well as guitarist Mike Morgan.
Manta Ray recorded a four-song demo in 1990 in the hopes of getting a record contract. The contract never happened and these songs have gone unheard…until now. And while this was a demo recording, the sound quality is extremely professional. The demo, titled Visions of Towering Alchemy, shows a band very much in tune with the emerging progressive and power metal sounds. It's easy to draw comparisons to bands like Crimson Glory and Drive (first album at least), but what Manta Ray sounded most like was Awaken the Guardian-era Fates Warning. This is due in large part to Harvill's piercing, high-pitched vocals, but the guitar work has a strong technical aspect as well. The technicality is matched by plenty of power and a good sense of melody.
Edition Notes: Divebomb's Bootcamp release marks the first time Visions of Towering Alchemy has ever been released on CD. It's a limited run (500 units), features new cover artwork, vintage photos, an interview with Lance Harvill, and a pair of bonus tracks from the 1991 Die Hard demo. The bonus tracks show the band moving in a different direction, especially in the vocals. It's still metal, but is a departure from the 1990 material for sure.
Even though it's only an EP, there's a lot to love about this Manta Ray release. Just discovering that there was another band in the late '80s/early '90s making this kind of metal is rewarding enough, but when the songs are this good and hold up so well all these years later…it's hard to ask for more than that. If you're a disciple of the classic prog/power sound of Fates Warning, Queensryche, Crimson Glory and Watchtower, you owe it to yourself to pick up a copy of Visions of Towering Alchemy.
Genre: Power Metal, Progressive Metal
Band:
David Harbour (b)
John Hebert (d)
Mike Morgan (g)
Lance Harvill (v) (g)
Track Listing:
1. Lords of Atlantis
2. Until Tomorrow
3. Dream To Be
4. Face of Reality
5. Guilty
6. On My Own
Label: Divebomb Records
Hardrock Haven rating: 9.25/10