Michael Schenker's Temple of Rock | Bridge the Gap
by Deb Rao
– Senior Columnist —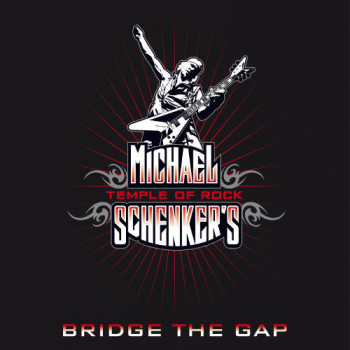 Michael Schenker's Temple of Rock is gearing up for the release of Bridge The Gap on Jan. 7 via Inakustik Label. The album comes in three configurations, including a deluxe edition that features a bonus track by Don Dokken entitled "Faith."
Bridge The Gap is produced by Schenker and Michael Voss. The album includes ex-Rainbow singer Doogie White on vocals, Michael Schenker on lead and rhythm guitar, Wayne Findlay on seven-string guitar and keyboards, Francis Buchholz on bass and Herman Rarebell on drums.
Bridge The Gap showcases the blistering guitar work of guitar virtuoso Michael Schenker at his finest. The album unleashes various dimensions of the guitarist, including ferocious riffs and the delicate melodic side that comprises all the different elements of metal.
The opening track "Where The Wild Wind Blows" unveils the Spartan riffs of Schenker combined by the sledgehammer drums rolls and metal blitz and heavy vocals of Doogie White. Shades of Dio glow on this track. It sets the tone for a rollercoaster pyro-coaster ride of metallic riffs. "Horizons" follows in the heavy vein of Maiden. "Lord Of The Lost And Lonely" shines with a rocking guitar intro, catchy chorus and Heaven and Hell vibe.
Another stand-out track includes "Bridges We Have Burned," which is outstanding with its acoustic intro that transpires into a full-metal attack. The lyrics speak volumes. Doogie White has a very heavy vocal style, reminiscent of the late Ronnie James Dio. The songs "Because You Lied" and "Black Moon Rising" follow the heavy metal dark mood.
The bonus track "Faith," with Don Dokken, is a nice departure from the heavy metal onslaught. Schenker is brilliant with the acoustic finger picking, and Dokken sounds amazing with his smooth, melodic vocal style. It would have been great to hear maybe two more acoustic songs with Dokken on the album. Bridge The Gap is a straight-ahead full metal blitz of Michael Schenker's compelling guitar wizardry. Sometimes the departure from metal is so alluring with an acoustic ambiance track.
Bridge The Gap infuses the vibe from the old Scorpion days with Schenkers's Scorpion rhythm section on board. In a time during which guitar solos have seemed to disappear, Michael Schenker unleashes his vibrant guitar virtuosity, which, once again, is so refreshing to listen to.
Be sure to check out Michael Schenker on his U.S. tour, which begins Jan. 9 at the Las Vegas Convention Center in Las Vegas.
Genre: Hard Rock
Band:
Michael Schenker – lead guitar and rhythm
Doogie White – Vocals
Wayne Findlay – 7th string guitar and keyboards
Francis Buchholz– bass
Herman Rarebell – drums
Track Listing:
l. Where The Wild Wind Blows
2. Horizons
3. Lord Of The Lost And Lonely
4. Rock N Roll Symphony
5. To Live For The King
6. Land Of Thunder
7. Temple Of The Holy
8. Shine On
9. Bridges We Have Burned
10. Because You Lied
11. Black Moon Rising
12. Dance For The Piper
13. Faith – Bonus Track-Deluxe Edition-Don Dokken
Label: Inakustik Label
Website: www.michaelschenkerhimself.com
Hardrock Haven Rating: 8/10