Rocka Rollas | Metal Strikes Back
by Justin Gaines
– Senior Columnist/News Editor —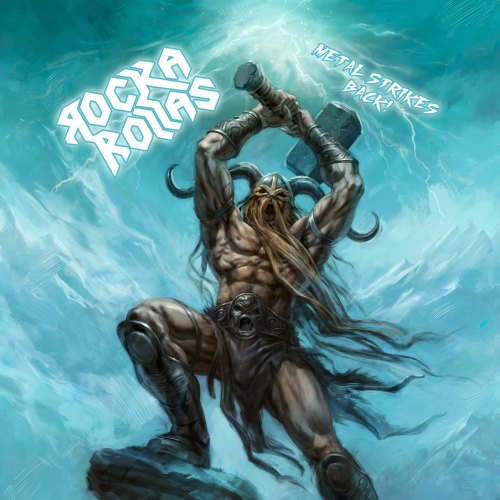 Just when you think there can't possibly be any more songs about heavy metal, Swedish traditional metal warriors Rocka Rollas return with a new offering to prove you wrong. Their latest effort, titled Metal Strikes Back, is their second full-length album, and comes hot on the heels of their recent Conquest EP. As with previous Rocka Rollas releases, Metal Strikes Back is another unapologetic celebration of the old school heavy metal sound.
Rocka Rollas hit right in that classic Priest (obviously), Manowar, Accept and Grim Reaper territory. They're all about the lighting fast riffs, metal thrashing mad rhythms, killer guitar solos and gloriously cheesy lyrics about metal, metal and more metal. There may be a song or two about robots or something too, but they're metal robots by God. It's probably best not to overthink this one. Crank up songs like "Night of the Living Steel," "Heavy Metal Strikes Back" and "Weaponizer" and bang your head! The album ventures into epic power metal territory with the 8-minute closer "Swords Raised in Victory," which has some really fantastic melodies and rousing choruses to go with the mighty metal warrior themes.
They're not reinventing the wheel here, but that's not really the point of a band like Rocka Rollas. Metal Strikes Back sounds almost exactly like 2011's The War of Steel Has Begun, but that was an awesomely fun album too. This is a band anyone into the New Wave of Traditional Metal bands, especially Widow, Skull Fist, Enforcer and even 3 Inches of Blood, ought to love, and fans of the classic '80s metal sound that are tired of all the endless sub-genres should find this simple, straightforward metal band a lot of fun.
Genre: Heavy Metal
Band:
Cederick Forsberg (g)(b)(d)(v)
Joe Liszt (v)
Track Listing:
1. Night of the Living Steel
2. Metalive
3. Heavy Metal Strikes Back
4. Blazing Wings
5. Raging Cyborg
6. Warmachine From Hell
7. Weaponizer
8. Swords Raised in Victory
Label: Stormspell Records
Website: www.myspace.com/rockarollas
Hardrock Haven rating: 8/10