Scorpion Child | Scorpion Child
by Justin Gaines
– Senior Columnist/News Editor —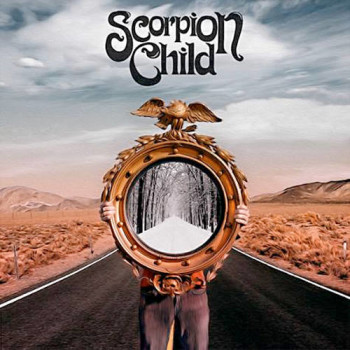 The folks at Nuclear Blast have been on a roll lately, signing retro rock bands left and right, from Kadavar to Graveyard to Orchid. The latest addition to their roster is Austin-based Scorpion Child, who delivered their self-titled debut album earlier this year. Think of it as the quirky Southwest answer to the heavier Swedish stoner rock scene.
While most of these retro bands stick pretty close to Black Sabbath worship, Scorpion Child has a more unique sound. Led Zeppelin is the obvious influence, and there's a bit of Wolfmother and even the Darkness in their sound, but it's German band Kingdom Come (once written off as Zeppelin clones themselves) that this album really brings to mind. That's probably not an intentional similarity by the band, but once you hear it it's hard not to compare the two. The vocals definitely have a Lenny Wolf (and at times Shannon Hoon) vibe. This is really fun stuff. It's nothing complicated, but there are tons of great riffs, bluesy rhythms and some serious vocal acrobatics.
There are some really dynamite songs on the Scorpion Child debut. The single "Polygon of Eyes" is an obvious choice, and "King's Highway" and "Liquor" are just as killer. The bonus track "Keep Goin'" is another winner, and is about as good as anything on the "proper" album.
File this one alongside the latest releases from Rival Sons, the Winery Dogs and the Answer as proof positive that old school heavy rock is still being made and still a hell of a lot of fun to rock out to. If you're a fan of any of those bands (or the Darkness, Orchid, Kadavar, Graveyard and the like), be sure to check out what Scorpion Child has to offer. It's also highly recommended if you're a Kingdom Come fan.
Genre: Stoner Rock
Band:
Aryn Jonathan Black (v)
Chris Cowart (g) (v)
Thomas Frank (g) (v)
Shaun Avants (b) (v)
Shawn Alvear (d)
Track Listing:
1. King's Highway
2. Polygon of Eyes
3. The Secret Spot
4. Salvation Slave
5. Liquor
6. Antioch
7. In the Arms of Ecstasy
8. Paradigm
9. Red Blood (The River Flows)
10. Keep Goin'
Label: Nuclear Blast
Website: www.scorpionchild.com
Hardrock Haven rating: 8/10