Silver Cypher | Adfectus Infernus
by Justin Gaines
– Senior Columnist/News Editor —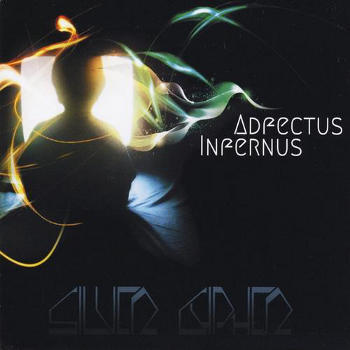 Adfectus Infernus is the fourth full-length release from Cincinnati-based metal band Silver Cypher. The band bills themselves as a "dark power metal" outfit, a term that brings to mind the likes of Evergrey and Bloodbound. The reality – at least judging by Adfectus Infernus – is a bit more complicated, and in a good way.
Adfectus Infernus is a very intense, unpredictable and memorable listening experience. Yes there are power metal elements and yes it's dark lyrically – albeit in a futuristic, sci-fi kind of way – but this seems almost like Voivod meets Slough Feg more than anything else. It's progressive metal in the truest sense of the term. Silver Cypher is pushing the genre boundaries here, and the results are really impressive. The band displays a high level of technicality, and between the unorthodox song structures, strange atmosphere and "here's an interesting way we're all gonna die" lyrics, listening to Adfectus Infernus is like a perilous voyage to some far flung planet. For all its quirks, there are plenty of moments where guitarist/vocalist Jon Krech just thrashes away, so the album always maintains that metal spirit.
As far as highlights go, sample "Hiding in the Light" and "Monstro" and you'll get a pretty good feel for the overall sound on Adfectus Infernus. It's not a "singles" kind of album though. You need to experience the whole thing in one sitting, preferably via headphones so you can catch everything that Silver Cypher put into this album.
Of course the potential risk of taking such a unique approach is that the album may not have a very wide appeal. Power metal fans might not embrace something this non-traditional. Likewise those whose benchmark for progressive metal is Dream Theater may have a hard time accepting something without keyboards and self-indulgent solos. That said, those who do get what Silver Cypher have done here are going to absolutely love Adfectus Infernus. It's a weird one, but sometimes weird can be awesome.
Genre: Power Metal, Progressive Metal
Band:
Jon Krech (g) (v)
Chad Brinker (d)
Mike Lawson (b)
Track Listing:
1. Fathom
2. Summer of My Discontent
3. Pride & Despair
4. Alter-Flow
5. Zombie Apocalypse
6. Golem
7. Hiding in the Light
8. Monstro
9. Inferno
10. All Good Things
11. Anomic
12. End of Eternity
Website: www.silvercypher.net
Hardrock Haven rating: 8.5/10