The Letter Black | Rebuild
by Joe Mis
– Senior Columnist —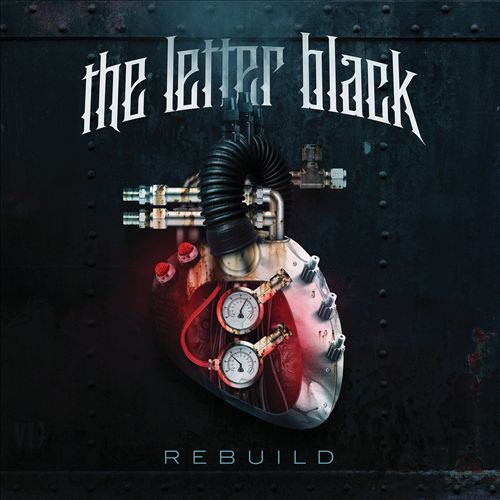 Rebuild is the latest release from Christian rockers The Letter Black, and a solid release it is. Fronted by the husband and wife team of Mark and Sarah Anthony, The Letter Black delivers a strong and varied rock-metal mix pulling from multiple genres and manages to be uplifting and "Christian" without being biblical or preachy.
The band started out in 2006 as "Breaking The Silence", a church duo, and later signed a deal with Tooth & Nail Records. After the name change, The Letter Black released their debut, Hanging On By a Thread, in 2010, and headed back into the studio in 2012 to begin work on Rebuild. Rather than attempting to preach, the band writes songs about real life, both good and band, and tries to inspire everyone to find some kind of inner strength or faith to get them through the tough times. Somehow they manage this feat while launching a full on attack of blistering guitars, booming bass, rapid fire drums and superb vocals. Musical styles range from pop rock to Gothic metal, and touch just about everything in between.
"Sick Charade" is a dark and bitter sounding track that melds a bit of Gothic metal with a grungy sounding guitar line. Vocalist Sarah Anthony runs the gamut from clear and deep to a raw scream. Well done guitars (and strong backing vocals) courtesy of Mark Anthony drive the Gothic sounding "Break Out," and the big, sweeping chorus make it memorable. The mix on the vocal lines is nothing short of superb – the entire album is a standout in that regard. Other producers could learn a thing or two about mixing voices from this album. "Pain Killer" is a slower, thicker track and the vocal interplay will remind the listener of some of Lacuna Coil's works. Matt Beal's bass and Justin Brown's drums are the heartbeat of this one – they are an excellent team. Some high pitched synths after the break and in the outro mar this otherwise fine track. "Found" is a well done Paramore style ballad that allows Sarah Anthony to truly sing.
"Up From The Ashes" is the standout track in all regards. The band is truly in their zone and everything simply works, from the great lyrics and vocals to the clockwork drums. This one is a feast for any metal fan's ears and is sure to be their arena rocker on tour. Beal's bass takes center stage on the commercial rock ballad "Outside Looking In," while grunge guitars and fine duet vocals make "Rebuild" something special, as does hearing Sarah finally find what appears to be the top of her massive range. Gothic metal makes a return with the dark "Smothering Walls," a tune drive almost 100% by the bass and drums, at least until Mark Anthony's guitar solo blows the roof off. "Shattered" is another amazing vocal piece, and this commercial rocker is one of the band's better efforts. Intense drums and galloping bass push "Devil on Your Back," and Sarah brings out the scream voice again to good effect. "Branded" brings in a touch of alternative pop rock, but this is probably the one track that oversteps its boundaries in the mix of genres – it never seems to settle on what it wants to be.
The mix and engineering are superior – the album sounds terrific no matter the style of the song. Everything is balanced and well delivered, but it is the superb job that the Anthonys do on the vocals that will turn heads. Sarah Anthony is a truly remarkable singer, and her gifts allow her to handle just about any style with passion and sincerity. The others in the band blend in nicely and deliver veteran performances. The songwriting across the board is very good, especially when considering the wide mix of genres. However, most of the songs are on the short end time wise, and it would be nice to hear the band really explore their abilities by adding some longer tracks and instrumental passages.
Rebuild is more than a good Christian rock album – it is a good album, period. Fiery delivery both of vocals and music, coupled with solid songwriting and a well chosen mix of genres should put this one on the list of any rock fan. While there is nothing truly groundbreaking on this album there are very few bands today that are capable of delivering such a mix of styles so well, and that fact alone puts The Letter Black on the "bands to watch list." Radio ready and hungry, The Letter Black is poised for breakout, and should actively be seeking airplay outside of the Christian music world.
Recommended for Christians and non-Christians alike!
Genre: Christian Rock, Metal
Band:
Sarah Anthony (vocals)
Mark Anthony (vocals, guitar)
Matt Beal (bass)
Justin Brown (drums)
Track Listing:
1. Sick Charade
2. Break Out
3. Pain Killer
4. Found
5. Up From The Ashes
6. Outside Looking In
7. Rebuild
8. Smothering Walls
9. Shattered
10. Devil on Your Back
11. Branded
Label: Tooth and Nail Records
Website: http://theletterblack.com/
Hardrock Haven rating: 8.5/10