by Deb Rao
– Senior Columnist —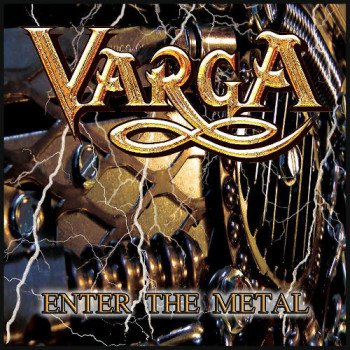 Canadian rock band Varga returns to the rock scene with their latest release Enter The Metal. The band reformed in 2011. Enter The Metal was produced by Julius Butty. Varga has a sound that is kind of a mix of Anvil meets Fear Factory. Enter The Metal has a definite thrash sound that dances on the line of industrial.
The album has great song titles with heavy thrash riffs that leap right out to you. Varga's music is all about the timing. Every songs experiences different time changes throughout the entire album. Opening track "Beginning Of The End" begins with the furious drum rolls and unleashes the fury of the raging guitars. The song "Mad Scientist" sounds like it is right out of a monster movie with its scary mood, guitar riffs and special effects.
Highlight of the album include "No More Clean Air." This is classic thrash. The final track "Shark Attack" would be a great soundtrack for the movie Sharknado with its acoustic beginning, as the song goes through different stages and flairs into intense thrash metal.
If you like your music heavy with uptempo guitar changes and raging drums, this album is for you.
Genre: Thrash Metal
Band:
Joe Varga – Bass and Vocals
Sean Williamson – Guitar
Adam Alex – Guitar
Dan Fila – Drums
Track Listing:
Beginning Of The End
Gamera
Mad Scientist
Plane Crash
No More Clean Air
Shark Attack
Label: Vargantuan Music
Website: http://www.varghq.com/
Hardrock Haven Rating 7/10