Axel Rudi Pell | Into The Storm
by Joe Mis
– Senior Columnist —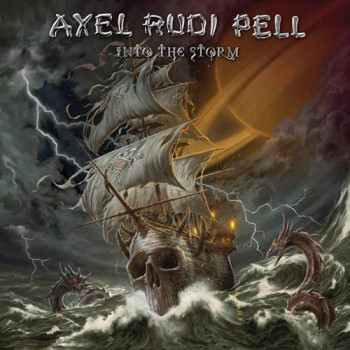 Its more of the same from Axel Rudi Pell on his latest release, Into The Storm… In this case – more explosive guitars, more solid vocal performances, more well-crafted songs, more of everything that has allowed the German guitar virtuoso to stay on top of the game for more than a quarter century.
Into the Storm is Axel's fifteenth studio release as a solo artist, and it is fitting that his silver anniversary release is one of his strongest. He is joined on this album by many familiar names: vocalist Johnny Gioeli, keyboardist Ferdy Doernberg, and bassist Volker Krawczak. Drummer Bobby Rondinelli (Rainbow, Black Sabbath, Blue Oyster Cult) is the new face in Axel's band, but he fits like a glove. Nothing has changed with Axel's songwriting style as he puts out both intense, mystical themed metal along with haunting ballads.
From the brutal metal riffs of "Tower of Lies" and the razor sharp hooks of "Long Way To Go" to the soft piano strains and muti-pass vocals of the ballad "When Truth Hurts," Pell and company prove that they have not lost their edge or their creativity despite delivering such a massive catalog of music. The band's vast experience shows not only in the songwriting an quality of performance, but also in the production and mix. The sound is crisp and clear – edgy when it suits the music, soft and subtle when the track calls for the other end of the audio dynamic.
"Long Way To Go" is the true showpiece of the album. Axel's guitars, both solo and rhythm, are crisp and clean, and the well traveled Johnny Gioeli proves he hasn't lost a step vocally. Doernberg, Krawczak, and Rondinelli complete the song perfectly, giving it a sturdy backbone. "Burning Chains" lets Gioeli stretch his range, while Axel lets his guitars take more of a backup role to the driving precision of Doernberg, Krawczak, and Rondinelli (although Pell's lead break is staggeringly good). The 7 minute plus "Touching Heaven" has a bit of an old school feel to it, yet features some modern flourishes, and the band's remake of Neil Young's "Hey Hey My My" is one of the better covers ever done (with Gioeli's vocals as the high point). The epic title track is simply that – epic.
Axel Rudi Pell's Into The Storm is a fine release, one that should make all members of the band proud. Somehow the music on this album is fresh and new, yet it feels immediately familiar, another step on the sonic journey led by one of the true greats in the metal world. To paraphrase Neil Young, Axel Rudi Pell has not burned out, nor shown any signs of fading away. Highly recommended to all fans of guitar rock.
Genre: Hard Rock, Metal
Band:
Axel Rudi Pell (guitars)
Johnny Gioeli (vocals)
Ferdy Doernberg (keyboards)
Volker Krawczak (bass)
Bobby Rondinelli (drums)
Track Listing:
1. The Inquisitorial Procedure
2. Tower Of Lies
3. Long Way To Go
4. Burning Chains
5. When The Truth Hurts
6. Changing Times
7. Touching Heaven
8. High Above
9. Hey Hey My My
10. Into The Storm
Label: Steamhammer, SPV
Website: www.axel-rudi-pell.de
Hardrock Haven rating: 9/10