Bobaflex | Charlatan's Web
by Jonna Ambur
– Senior Photojournalist —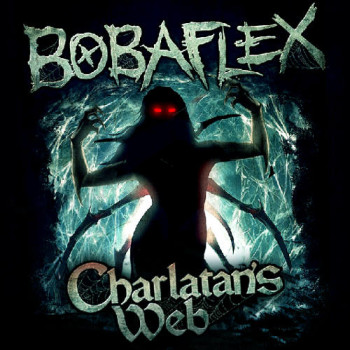 West Virginia's Bobaflex released their sixth full-length album, Charlatan's Web in September of 2013. Brothers and co-frontmen, Shaun and Marty McCoy, trade off guitar and lead vocals, depending on the song, adding a unique twist to this hard rock band.
Throughout the album, the vocals are solid, the music is robust and the groove is constant. "Bad Man" was the perfect choice as the band's first single. You can't help but turn it up and sing along. Following on its heels are "Never Coming Back" and "I'm Glad You're Dead."
As with previous Bobaflex releases, they have a bit of a mix to their sound. Songs such as "School for Young Ladies" and "Strangle You" have a bit more of a '80s hair metal sound, but while they don't quite fit in with the rest of the album, the tracks hold their own. There are also two awesome instrumental pieces to check out—one being the "Charlatan's Web Intro" and the other being at the end of "Rogue." Both pieces highlight the band's quality musicianship.
Bobaflex just recently published that they are looking for extras in the Ohio area on Jan. 9-10 as they are planning to film the video for "I'm Glad You're Dead."
Genre: Nu metal
Band:
Shaun McCoy – Guitar, Vocals
Martin McCoy – Guitar, Vocals
Dave Tipple – Guitar, Vocals
Tommy Johnson – Drums
Jerod Mankin – Bass, Vocals
Track List:
1. Charlatan's Web Intro (Love Letter from a Booking Agent)
2. Never Coming Back
3. Wading Through The Dark
4. Bad Man
5. I'm Glad You're Dead
6. Pretty Little Things
7. Losing My Mind
8. School for Young Ladies
9. Strangle You
10. Rogue
Discography:
Bobaflex (1999)
Primitive Epic (2003)
Apologize For Nothing (2005)
Tales From Dirt Town (2007)
Chemical Valley EP (2010)
Hell in My Heart (2011)
Label: BFX Records
Web: http://www.theofficialbobaflex.com
Facebook: https://www.facebook.com/Bobaflex
Twitter: http://www.twitter.com/bobaflex
Hardrock Haven rating: 6/10